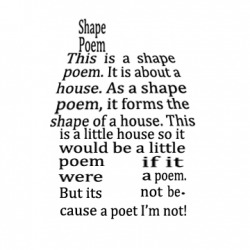 As the name implies, shape poetry has to do with the physical form of the words on the paper. While the words, writing style and literary devices all impact the meaning of the poem, the physical shape that the poem takes is also of significance. Combining content and form helps to create one powerful effect in the field of poetry.
Variations of Shape Poems
Shape poems, also known as concrete poems, literally come in all shapes and sizes. Some examples of shape poems will help you to better understand the purpose of these literary creations.
Floral Arrangements
Two poems, Forsythia and Lilac by Mary Ellen Solt focused on the images of both of these types of flowers as opposed to the standard structure of the poem. Both of these poems are available on this Concrete Poems website. The viewer will see that they are quite whimsical. Instead of using lengthy verses to describe a forsythia and a lilac, Solt paints pictures which convey the freedom of a gentle flower moving in a calm breeze.
People and Animals
Other common sources of inspiration for shape poems are the people and animals that we see around us every day. In Concrete Cat by Dorthi Charles and Butterfly by David Schondelmeyer, the authors do use words to describe the subject matter. However, because of the image that goes along with the words, phrases such as Schondelmeyer's "it floats by" and "it flutters high" and Charles' "whisker whisker," "dish dish" and "litterbox litterbox" really come to life.
Laura Ruggueri uses a bright eyed youngster to depict an image of a future generation searching for peace, freedom and open mindedness in their time.
Further Reading
As you've probably guessed, shape poems can be created about pretty much any subject matter, and they have been created about a wide variety of objects. Some other shape poems to read, examine and analyze are as follows:
In some shape poems, it is easy to tell why the author chose a specific image to go along with the words adding to the creativity and free spirit behind the movement. In others, the reader must look deeper into the text to reveal the image, revealing the thought and appreciation for the art that this discipline inspires.
Creating Shape Poems
Whether you're teaching to a classroom full of third graders, or you are an aspiring poet fresh out of college, shape poems are a type of art that help you to develop your style and express your ideas. For younger learners and beginning poets, have them create a simple shape with their words. For example, you could ask them to follow the style of Dorthi Charles' Concrete Cat. Take them on a walk outside and have them be inspired from some source of nature.
Another important aspect of writing a shape poem is to avoid forcing the image. Write down some words and play with them. Remember, it might take awhile before those words can truly come to life in a shape. Don't feel constricted by others' perceptions of reality. For example, if you were writing about a box, you could add vertical lines throughout the length of the box to represent a prison and how "thinking inside the box" essentially keeps a person's mind trapped.