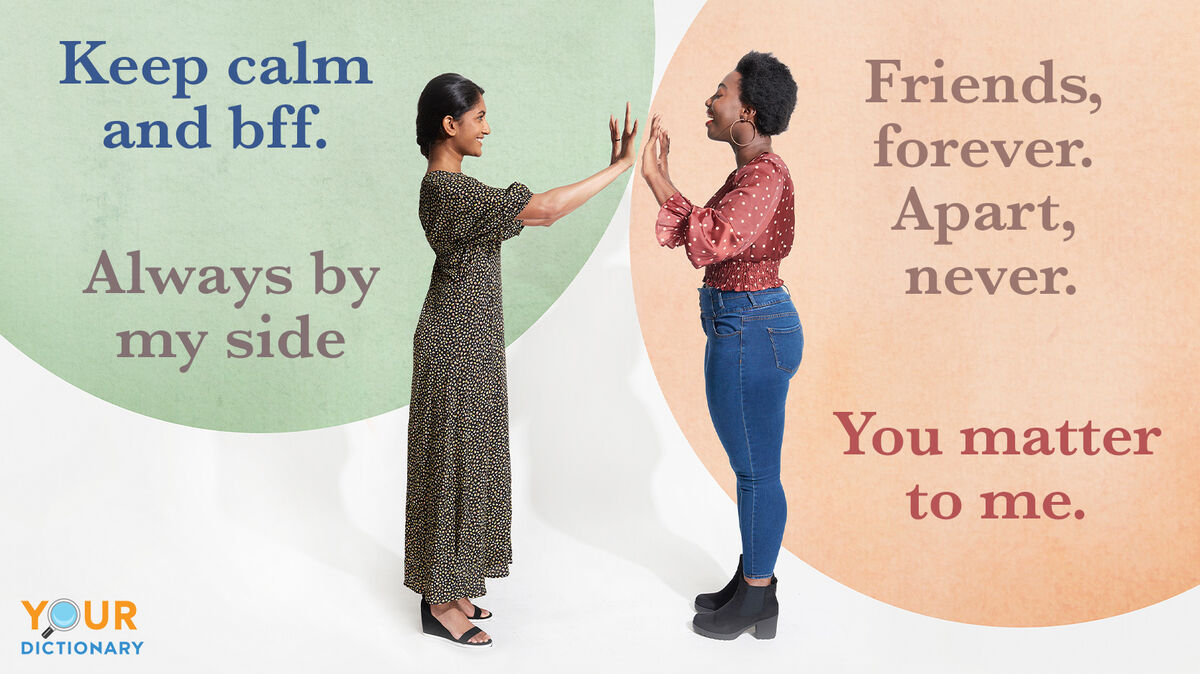 You can never know too many quotes about friendship! From super-short quotes about besties to phrases from classic literature, explore a list of friendship quotes that can help you share special messages with the most important people in your life. From funny friendship sayings to moving quotes for every occasion, you're bound to find words to express the sentiments you wish to share.
Fresh and Short Best Friend Quotes
Are you looking for some fresh, new quotes about best friends? Enjoy a selection of original quotes that say exactly how you feel about your bestie. If you're looking for a fun or meaningful caption that's not already all over Instagram, you just might find the perfect phrase right here.
You are the sister of my soul.
If I could choose a sister, it would be you.
Keep calm and bff.
Bffs 'til the end of time.
You're my ICE (in case of emergency contact)

I choose you to be my family, not by blood, but by love.
I would quarantine with you.
Always by my side.
Friends, forever. Apart, never.
You are my compass.
You're the constant in my life.

Our friendship is stronger than graphene.
Best friends past, present and future.
You're my lifesaver.
There's no substitute for my best friend.
You're the O.G. of friendship.
You matter to me.
I wouldn't be me without you.

Meaningful Friendship Quotes
Looking for a way to tell your closest friends just how much they mean to you and how much you appreciate them? These original and famous quotes can help you fit a powerful message about how meaningful friendship can be into just a few words.
A circle of friends is a circle of love.

Wherever you go, whatever you need, I will be there for you.

Everyone should be so lucky as to be your friend.
Friends can be the mirrors of our souls.
Good friends help you see the world through someone else's eyes.

Through the hills and valleys of life, friends celebrate the thrills and help you navigate the strife.
The role of a friend is to sometimes tell you what you don't want to hear and to help think through problems until the answer is clear.
Friends are meant to be mirrors, not mimics. Sometimes they have to show us what we don't want to see rather than telling us what we want to hear.
"I'll be there for you/ 'Cause you're there for me too." - The Rembrandts

"I cannot even imagine where I would be today were it not for that handful of friends who have given me a heart full of joy." - Charles "Chuck" Swindoll
"Walking with a friend in the dark is better than walking alone in the light." - Helen Keller
" Be courteous to all, but intimate with few; and let those few be well tried before you give them your confidence." - George Washington
"One cannot count what one would exchange for a noble friend." - Orestes, Euripides
"I'm glad I found you and became your friend." - Philoctetes, Sophocles

"The language of friendship is not words but meanings." - Henry David Thoreau
Quotes About True Friends
There's nothing better than to have a true friend who will always be by your side, no matter what. True friends help us navigate life. The sayings below provide interesting and creative ways of conveying how important friendships really are.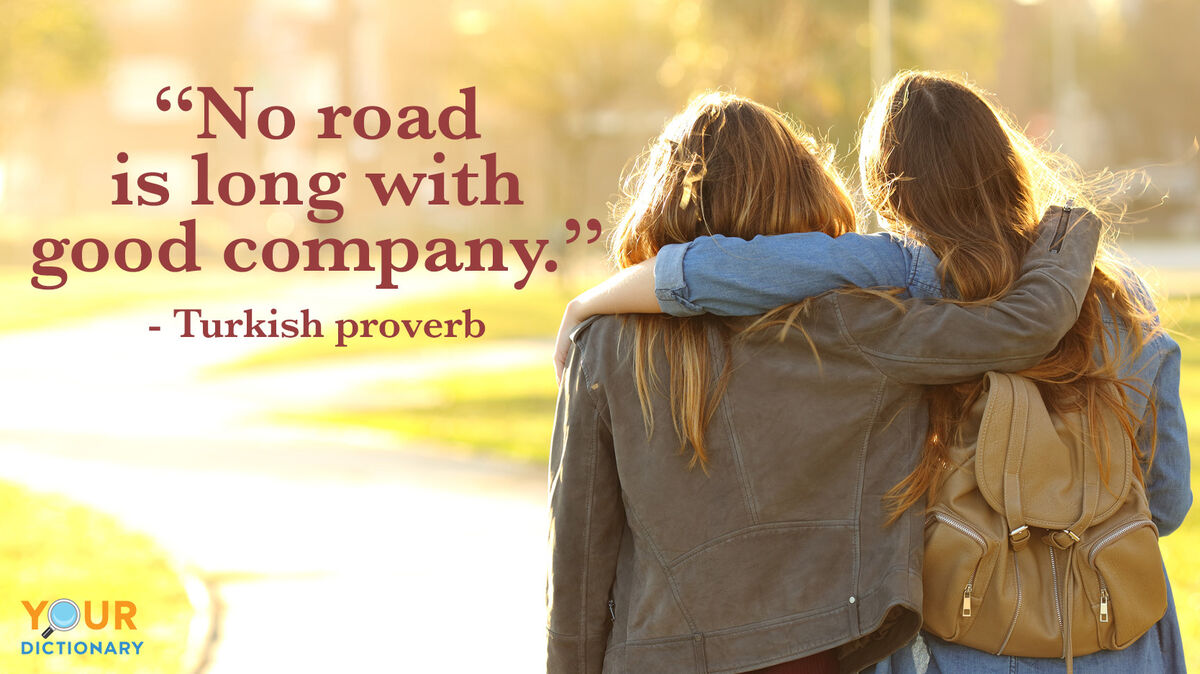 Everyone should be so fortunate to have a friend like you, one who will be true a whole life through.
True friends know you inside and out and love you anyway.
A true friend lifts you up when you're down, whether you need to frown or head out for a night out on the town.
It's not possible to put a price on the value of friends.
Even if we don't see each other for years, when we are together it feels like we were never apart.
A friend who is true wishes nothing but the very best for you.
True friends are more valuable than gold; gather them close forever to hold.
"Lots of people want to ride with you in the limo, but what you want is someone who will take the bus with you when the limo breaks down." - Oprah Winfrey
"Every girl needs a good friend and a glass of wine." - LeAnn Rimes
"Things are never quite as scary when you've got a best friend." - Bill Watterson
"To me, that is one of the most important principles of life: Never leave your friends behind." - Buzz Aldrin
"Never explain. Your friends do not need it and your enemies will not believe you anyhow." - Elbert Hubbard
"Ah me, a true friend—there's nothing better, not wealth or sovereignty." - Orestes, Euripides
"Friends share things in common." - Orestes, Euripides
"A faithful friend is hard to find." - Unknown (Chinese proverb)
"No road is long with good company." - Turkish proverb
Quotes About the Power of Friendship
Friendship can be a powerful factor in a person's life. What would life be like without your friends? Use these sayings and quotes to let your friends know just how much of an impact they have made on you.
My life improved the day you walked into it.
With you by my side, I can face any tide.
With a friend like you, there is nothing I can do.
Neither time nor distance can break a strong friendship.
My best friend always seems to sense when I need a shoulder to cry on.
You ground me and keep me on course; you're my best friend, my true north.
With you as my friend, I can accomplish any goal and attain any end.
There's no better way to recharge your batteries than to spending time with friends.
"Ain't it good to know you've got a friend?" - James Taylor
"With good friends, you can't lose!" - Kermit the Frog
"A friend is one who knows you and loves you just the same." - Elbert Hubbard
"Love is the only force capable of transforming an enemy into a friend." -Martin Luther King, Jr.
"I get by with a little help from my friends" - The Beatles
"For how can I show I'm a friend of yours if I don't help when you face great troubles?" - Orestes, Euripides

Friendship messages don't always have to be heavy or deep to celebrate these relationships. True friendship certainly is a serious matter, but that doesn't mean you can't express what you want to say with a cute, funny quote.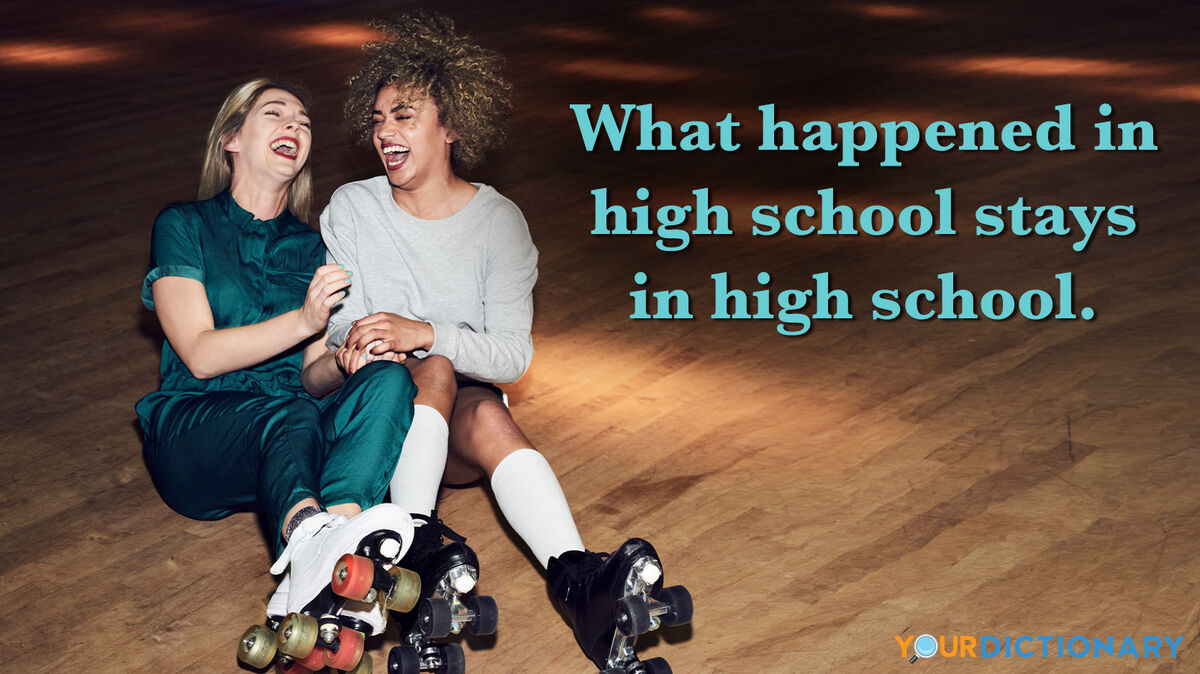 A true friend knows enough about where the bodies are buried to be an accessory after the fact.

From the playground to assisted living, thanks to having you as a friend I will always be giving.
There's no statute of limitations on childhood secrets.

What happened in high school stays in high school.
Don't ever play truth or dare with your long-time best friends. They know too much.
Girlfriends are sisters; they always come before misters.
You're the voice in my ear when I'm not sure what to do.
"Friends lift you up! And even if you're not a three-and-a-half foot tall frog, everyone could use a boost now and then." - Kermit the Frog
"Let's face it, friends make life a lot more fun." - Charles "Chuck" Swindoll
"Any day spent with you is my favorite day. So, today is my new favorite day." - Winnie the Pooh, A.A. Milne
"A friendship founded on business is a good deal better than a business founded on friendship." - Nelson Rockefeller
"The best time to make friends is before you need them." - Ethel Barrymore
"The finest friendships are between those who can do without each other." - Elbert Hubbard
"May the hinges of our friendship never grow rusty." - Unknown (Irish proverb)

"A good friend is like a four-leaf clover, hard to find and lucky to have." - Unknown (Irish proverb)
Quotes About the Enduring Nature of Friendship
There's nothing quite as special as an enduring friendship that weathers many seasons of life. Over the decades, as time goes by, if you're lucky some special friends will remain in your life no matter what changes.
Forever and a day, I'll always be your friend along the way.

How long does it take to grow an old friend?
We may not always agree, but still friends forever we will always be.

From grade school to old age, you've been my friend for life through every page.
You wrote the book on what it means to be a friend.
From happy hour to early-bird specials, our friendship is one thing the decades can't sour.
Every now and then, even when you're grown, carve out time to escape from it all with your closest friends alone.
There's nothing so valuable in life than a forever friend.
There's no substitute for a lifelong friendship.
Friends don't let friendships fade away; they're more focused on finding a way to make them stay.
Lifelong friends know who you were then, who you are now, and look forward to discovering who you're yet to become.
"We have been friends together, / In sunshine and in shade; / Since first beneath the chestnut-trees / In infancy we played." - "We Have Been Friends Together," Caroline Elizabeth Sarah Norton

"The pain of parting is nothing to the joy of meeting again." - The Life and Adventures of Nicholas Nickleby, Charles Dickens
"Keep thy friend under thy own life's key" - All's Well That Ends Well, William Shakespeare
"I wish there was a way to show you how you've made me your true friend!" - Philoctetes, Sophocles

"There are good ships and there are wood ships, ships that sail the sea. But the best ships are friendships, may they always be." - Unknown (Irish blessing)
Quotes About the Struggles of Friendship
Friendship isn't all fun and games. Friends often face struggles, both individually and within their relationships. Some friendships grow stronger as a result of working through challenges, while others don't survive. The quotes below help express the unique nature of struggles that involve friends.
Friendship isn't all fun and games; it endures through life changes and disagreements through which you love each other just the same.

Friendships change as the parties age, but the story doesn't have to be over as the book of life turns another page.

No matter how our paths in life diverge, it seems somehow they always find a way to merge.
True friends sometimes fight, but they always find a way to make things right.
A long-term friendship sometimes requires saying I'm sorry, accepting the apology and never looking back.
Good friends never say I told you so, even if you discover that you should have listened to their advice.
You and I may not always agree; sometimes we don't even get along. We work through it all, though, as friends like you and me cannot be apart for long.

"He has no enemies, but is intensely disliked by his friends." - Oscar Wilde

"It is easier to forgive an enemy than to forgive a friend." - William Blake
"True friendship is a plant of slow growth, and must undergo and withstand the shocks of adversity before it is entitled to the appellation." - George Washington
"A hedge between keeps friendship green." - Unknown (Chinese proverb)
"An insincere and evil friend is more to be feared than a wild beast; a wild beast may wound your body, but an evil friend will wound your mind." - Unknown
Finding the Right Words for Friendship
Did any of these friendship quotes speak to you, or are you still searching for the words to express the sentiments you wish to share? Explore some examples of proverbs from around the world for inspiration. Or, if you want to write your own poem, reviewing these words that rhyme with friend can help you get started. You may also find these words of encouragement to be helpful. If your real goal is to be friendly, welcome quotes could be just what you need. No matter the path you take, your friends are sure to love whatever it is that you decide to say. After all, it's the thought that matters!