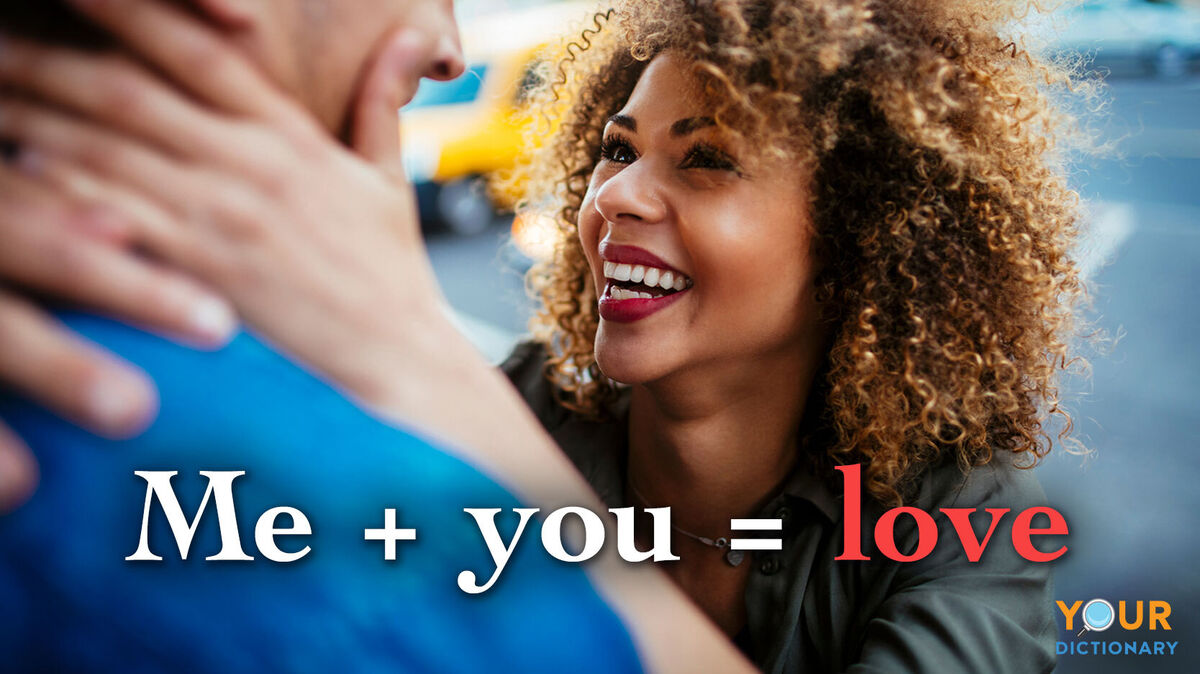 Are you looking for a creative way to let the man in your life know just how much you care? When you want to make every moment count, consider incorporating these love notes for him into your love letters, cards, poetry, or even the sweet nothings you whisper in his ear.
Short Love Quotes for Him From the Heart
Telling someone how you feel doesn't require a lot of words. These original sayings, along with quotes from movies and books, provide you with several options to get your point across without resorting to verbosity.

Me + you = love.
Even the dog loves you.
I liked you before I loved you.

You're my best friend.
You're my favorite guy!
You make me feel safe and loved.
Love lives between us.
You're special to me.
Together, we can accomplish anything.
You're my other half.

We make sense together.
I'm comfortable with you.
I trust you with my heart.
I love being in your orbit.
You're my superstar.
I love all of you.
We're meant to be.
Take my hand.
"Just as you are." - Bridget Jones's Diary

"You're my air." - Brown Sugar
"I want the fairy tale." - Pretty Woman

"Even when it rains." - A Farewell to Arms, Ernest Hemingway
"If music be the food of love, play on." - Twelfth Night, William Shakespeare
"Never love anyone who treats you like you're ordinary." - Oscar Wilde
Love Quotes to Make Him Feel Special
When your goal is to make the special guy in your life feel special, you might find that one of the original quotes below expresses what you want to say or provides inspiration to come up with your own saying. The key is to emphasize something wonderful about him and/or how he makes you feel.
You're my dreamboat.
You're the guy for me.
You were made for me.

You are my everything.
You are the center of my world.
You help me feel grounded.
You're the Jeopardy champion of my heart.

I wouldn't be me without your love.
You stole my heart.
You are my heart's home.
You bring joy into my life.
You're the song in my heart.
You're the spice in my tea.

You're the icing on the cake of life.

You enrich my life.
You make me feel like the luckiest person on the planet.
You're the last missing piece of the puzzle of my life.

I couldn't dream up a better partner than you.

Every day with you feels like a dream.
With you by my side, I'm living the dream.
Your love brightens the light in my life.
Life with you is better than any dream anyone could ever have.

I can't believe I get to grow old with you.
How did I get so lucky to have connected with you?
Quotes to Convey Your Affection for Him
The man in your life also wants to know that you feel a strong sense of affection for him. This is an important part of any romantic relationship. Remind him just how affectionately you feel toward him with these sweet original sayings.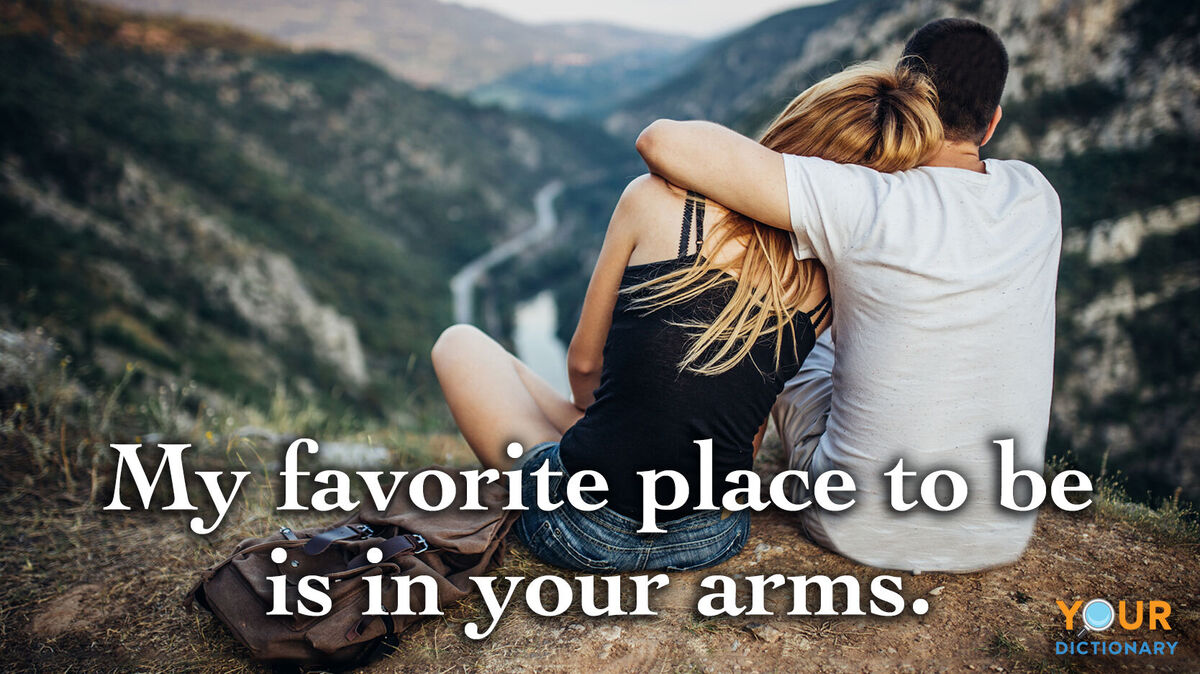 My heart beats faster when you're near.
Your love makes me whole.
My favorite place to be is in your arms.

I breathe easier when we're together.
The happiest moments involve snuggling with you.
Walking hand in hand with you brings me joy.
Your smile makes my heart skip a beat.
Your touch is thrilling to me.
Being loved by you is my favorite thing.
Your hugs are like a blanket of comfort.

I want yours to be the first face I see in the morning and the last one I see at night.
I feel like I'm walking on air when I'm with you.
You bring magic into my life.
I trust you with my very heart.
Heaven is a backrub from you.
You're my favorite companion.
Being with you brings me peace.
You warm my heart.
I feel safe when you are near.
Days spent together are the best of all.
Everyday life is special when we're together.
You are my shelter from the storm of life.
It brings me joy to comfort you.
Let's hold each other until the end of time.
Cute Love Quotes for the Man in Your Life
Love quotes don't always have to be serious. These lighthearted quotes can add a bit of fun and whimsy to your interactions with the special guy in your life. For even more cute sayings, explore these love idioms.
You're my kind of weird!
Let's be weird together.
We're two of a kind.
Opposites do attract!
My cat likes you, so you must be okay.
Even your snoring is adorable.
I love you more than taking naps.
You're worth the extra laundry.
Let's hike through life together.
Every day is an adventure when we're together.
In my life, you're the secret sauce.
We make a better pair than your mismatched socks.

You swept me off my feet. Now, will you sweep the kitchen?

You're worth more than the cost of the grocery bill.
I'd still want you around even if you didn't know how to use a grill.

Date night with you is the highlight of my week.
You're the best plus one in the whole wide world.
You make me laugh, you make me smile, I've been waiting for you for a very long while.
I wouldn't want to share my space with anyone but you.
You're the king of my castle.
Who's the one that I adore? All I know is that I love you more!
From the time we first did meet, you've always made my heart skip a beat.
Who needs romance when you have me?
"Love is a net that catches hearts like a fish." - Muhammad Ali

Sports-Related Love Quotes for Him
For another lighthearted approach to romantic quotes, you might want to consider a fun sports saying or two. Choose a quote about a sport that your guy relates to, ideally one that you enjoy together. He's sure to get a kick out of the saying you choose, as well as appreciate your sense of humor.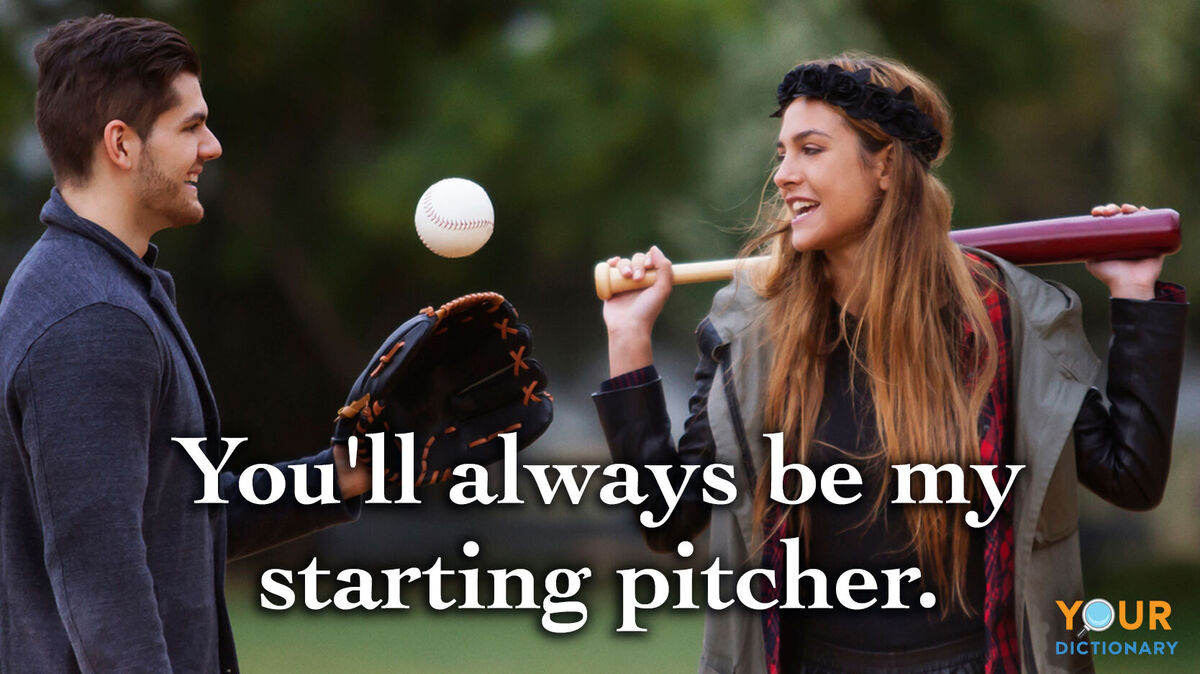 I love you more than you love football.
You are the quarterback of my heart.
I feel like I won the Super Bowl of love when I met you.
I'd gladly share a penalty box with you.

Meeting you was like an outside-the-park home run.
When I found you, I really hit one out of the park.
Our relationship is the World Series of love.

Life with you is never boring! You know just when to throw a curveball.
You'll always be my starting pitcher.

I'll always be in your corner.
Let's cross the finish line of love together.
Love is a marathon, not a sprint.
You make my heart pick up the pace.
You make my heart high-jump with joy.

We're the dream team of love.
I'll love you even if you double dribble.

You're the free-throw champion of my life.
You'll never foul out of my heart.
I'm your number one fan.
You are my champion.
You'll always be the champion of my heart.
You're the Olympic Champion of boyfriending.

Life with you is like one big Alpine skiing adventure.
I'll never need an all-star break from you.
When you feel passionate, burning love for someone, it takes a very special quote to express your feeling. Fortunately, this kind of love is often the focal point of books, movies and poetry. The beautiful words below may help express the power of your love for him.
I love you bigger than the universe.
I want to be your everything. You are the center of my universe.
You're always on my mind and forever in my heart.
When we met, I heard bells ring and birds sing. I saw lighting strike and heard rolling thunder. This love I feel is a thing of wonder.

I feel lost when you are away, becoming whole only when you return.

My heart has been waiting for you since the dawn of time.
What started as infatuation has grown into a mature, passionate and enduring love.
Your well-being is my primary concern. Whatever you need, I will always be there for you.
My heart yearns for you.
I can't remember who I was before I met you.
There is no one more perfect for me than you.
I feel it in my bones; you and I are destined to be together forever.
"If I could have you after every nightmare, I'd have ten a night." - Deadline, Sandra Brown

"I frown upon him, yet he loves me still." - A Midsummer Night's Dream, William Shakespeare
"I love thee, I love but thee! / With a love that shall not die" - "Bedouin Love-Song," Bayard Taylor

"I'm in orbit around you, can't you see that? I can move around you, but never away" - Don't Forget to Remember Me, Kahlen Aymes
"I have crossed oceans of time to find you." - Bram Stoker's Dracula
"You complete me." - Jerry Maguire

"I'm also just a girl, standing in front of a boy, asking him to love her." - Notting Hill
"I'm looking for love. Real love. Ridiculous, inconvenient, consuming, can't-live-without-each-other love." - Sex and the City

"Love is passion, obsession, someone you can't live without. If you don't start with that, what are you going to end up with?" - Meet Joe Black
"In my opinion, the best thing you can do is find someone who loves you for exactly what you are." - Juno
"I would wait for hundred years if it meant you were there at the end of them." - The Lake House
"Kiss me as if it were the last time." - Casablanca
Love Quotes for Your Husband
Once you've been married for a while, it's all too easy to take your fabulous husband for granted. Use these special quotes to let him know you're as crazy about him now as you were the day the two of you became spouses.
The day I married you is still the best day of my life.
Building a life with you is exactly what I want to be doing.
The life we have built together is more than I could have ever expected.
You're the best man-of-the-house ever.
You are perfect for me.
Wherever you are, that's my home.
I would marry you again today.
The decision to marry you and become your wife is the best decision of my life.
Love of my life, I'm proud to be your wife.
As husband and wife, we'll travel together through life.
Marrying you is the best decision I ever made.
Our love only grows as time goes by.
Our life together will never be boring.
I'm proud of us and the relationship we have built together.
With each anniversary, our marriage lasts longer and our love grows stronger.
Like a fine wine, a good marriage grows richer over time.
Relationships evolve as time marches on. They get better and better, growing more and more strong.
Every marriage is different, each relationship unique. Long-term love grows toward an ever-rising peak.
"I didn't get married to follow what society wants us to do. We are married, we have the luxury to design our own life." - Sex and the City

"The real act of marriage takes place in the heart, not in the ballroom or church or synagogue." - Are You the One for Me?, Barbara De Angelis

"We sit silently and watch the world around us. This has taken a lifetime to learn." - The Notebook, Nicholas Sparks
"Things work out the way they're meant to." - No Greater Love, Danielle Steel
"Long-term relationships, the ones that matter, are all about weathering the peaks and the valleys." - Safe Haven, Nicholas Sparks
"They slipped briskly into an intimacy from which they never recovered." - This Side of Paradise, F. Scott Fitzgerald
Love Quotes for Your Fiancé
If you and your beloved are engaged to be married, you'll want to choose quotes appropriate for that exciting and romantic time in your lives together. These fiancé-focused quotes are great for any occasion, maybe even your engagement party or other events leading up to the big day.
The day you proposed has been the best day of my life so far.
I can't wait for the day in my life when you and I will become husband and wife.
I think I've been waiting to be your wife every day of my life.
It is the honor of my life to be your betrothed.
I'm so excited to start the next chapter of our lives together.
Let's make this thing legal!

Soon we'll be a family.
Let's cruise into the future together.
I can't wait to walk down the aisle with you.
Love of my life, I cannot wait to become your wife.
Future husband of mine, our life together is going to shine.
Our love story is just beginning.
There's no one else I'd rather take this step with.
When we first met, I hoped that we'd end up here.
Being engaged to you is a dream come true.
In my heart, we are already married.
"Come live with me and be my love" - "The Passionate Shepherd to His Love," Christopher Marlowe
"I wanted it to be you, I wanted it to be you so badly." - You've Got Mail
"It was a million tiny little things that, when you added them all up, they meant we were supposed to be together — and I knew it." - Sleepless in Seattle

"Sometimes, the only way to catch an uncatchable woman is to offer her a wedding ring." - Big Fish
"You'd be surprised how fast things happen when the right man comes along." - The Wedding, Danielle Steel

"He braced himself for happiness like he'd never known in his entire life." - Lethal, Sandra Brown
"They just had to be patient. Destiny would bring them what they needed, yet again." - Until the End of Time, Danielle Steel
"A lady's imagination is very rapid; it jumps from admiration to love, from love to matrimony in a moment." - Pride and Prejudice, Jane Austen
"It is not a lack of love, but a lack of friendship that makes unhappy marriages." - Friedrich Nietzsche
Love Quotes for Your Boyfriend
Of course, not every love quote is for a fiancé or spouse. The sayings below are perfect for relationships that haven't progressed to that stage. Whether you're looking for a quote for a long-term boyfriend in a serious relationship or someone that you haven't been dating all that long, you're sure to find a quote here with just the right vibe.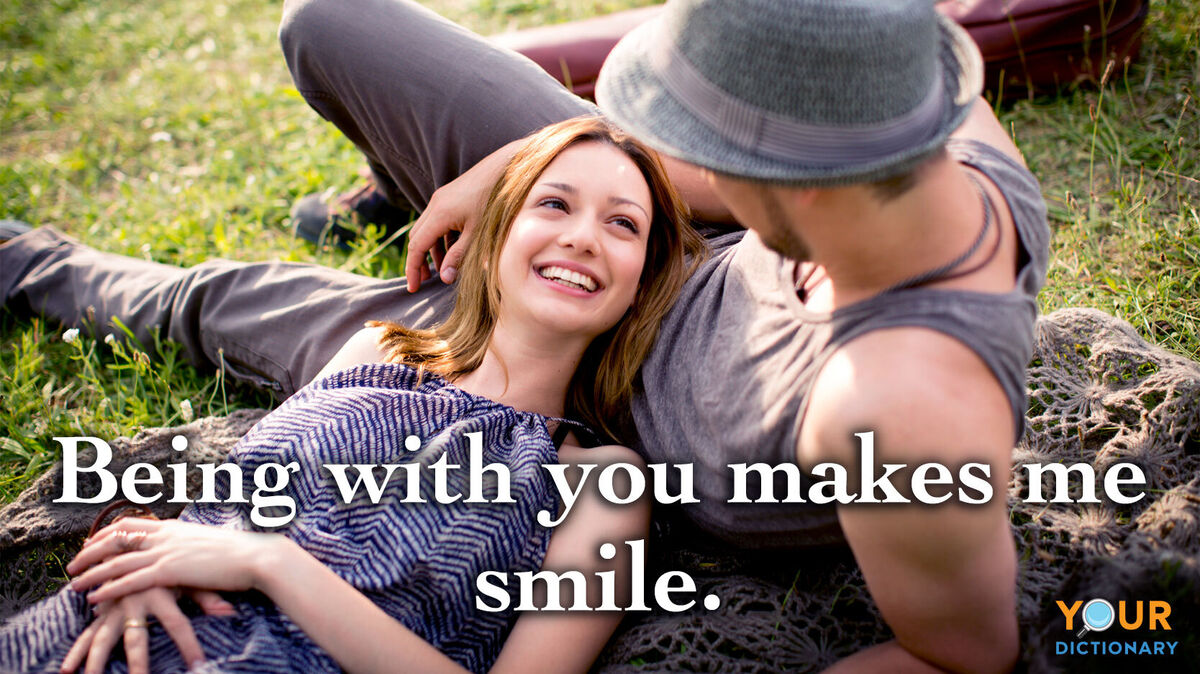 You're proof that blind dates can be a great idea.
Our first date just might have been fate.
Being with you makes me smile.
You're one of the good guys.
Nothing beats spending time with you.
I love being a party of two with you!
Spending time with you is something I look forward to.
You're slowly stealing my heart.
You and I just seem to fit.

You're so easy to be with.

I love our relationship.
Our relationship works.
Our connection is special.

Our bond is uncommonly strong.
We're a perfect pair.
We're lucky in love.
I relish your company.
Talking to you makes me smile.

Friendship first, romance to follow. No one knows where this might lead tomorrow.

Let's take things slow as we travel this road; it's up to us to find out just where things might go.

You be you and I'll be me; together we'll find out what our relationship is meant to be.
"Spending time with you showed me what I've been missing in my life." - The Choice, Nicholas Sparks

"I'm scared of walking out of this room and never feeling the rest of my whole life the way I feel when I'm with you." - Dirty Dancing

"Just be here now." - A Dog's Life
Long Distance Love Quotes for Him
Long-distance relationships can be uniquely challenging. Whether you want to reassure your guy that your relationship will survive separation or your goal is to reduce the amount of time the two of you spend apart, you're sure to find a special quote that expresses what's in your heart.
Being away from you is only making me love you more.
Love can span any distance.
Intertwined hearts can't be separated by miles.
I miss you when you are gone. Come home before another day is set to dawn.
While I would rather have you near, distance seems to make my love for you even more dear.
Does absence make the heart grow fonder? That's a question I no longer need to ponder.
Wherever you are, wherever I may be, my love for you is all I can see.
Distance can't break the bond we share. Across so many miles I hope you still can feel how very much I care.
I am counting my breaths until we can be together again.
The miles that separate us are too great; coming together again surely must be our fate.
Our love is strong enough to survive being apart. No matter what, we're always together in my heart.
There has been too much time away. Let's find a way for us to both come home to stay.
Things aren't as they should be when you are not here with me.
When we're apart I yearn to be with you.
Every moment we're apart feels like an eternity.
I miss you most of all.

"Sir, more than kisses, letters mingle souls" - "To Sir Henry Wotton," John Donne

"I fell in love with her when we were together, then fell deeper in love with her in the years we were apart." - Dear John, Nicholas Sparks

"I love you, not just for now, but for always, and I dream of the day that you'll take me in your arms again." - Dear John, Nicholas Sparks

"Without you in my arms, I feel an emptiness in my soul. I find myself searching the crowds for your face — I know it's an impossibility, but I cannot help myself." - Message in a Bottle, Nicholas Sparks
If anything, our time apart has only made me more certain that I want to spend my nights by your side, and my days with your heart." - Nights in Rodanthe, Nicholas Sparks
"If there's anything you need, I won't be far away." - Forrest Gump
"People come into your life and people go. But it's comforting to know that the ones you love are always in your heart, and if you're very lucky, a plane ride away." - Sex and the City

Romantic Song Quotes for Him
Don't forget song lyrics when you're looking for romantic quotes for the special guy in your life. They can provide a powerful way to let him know just how much you love him.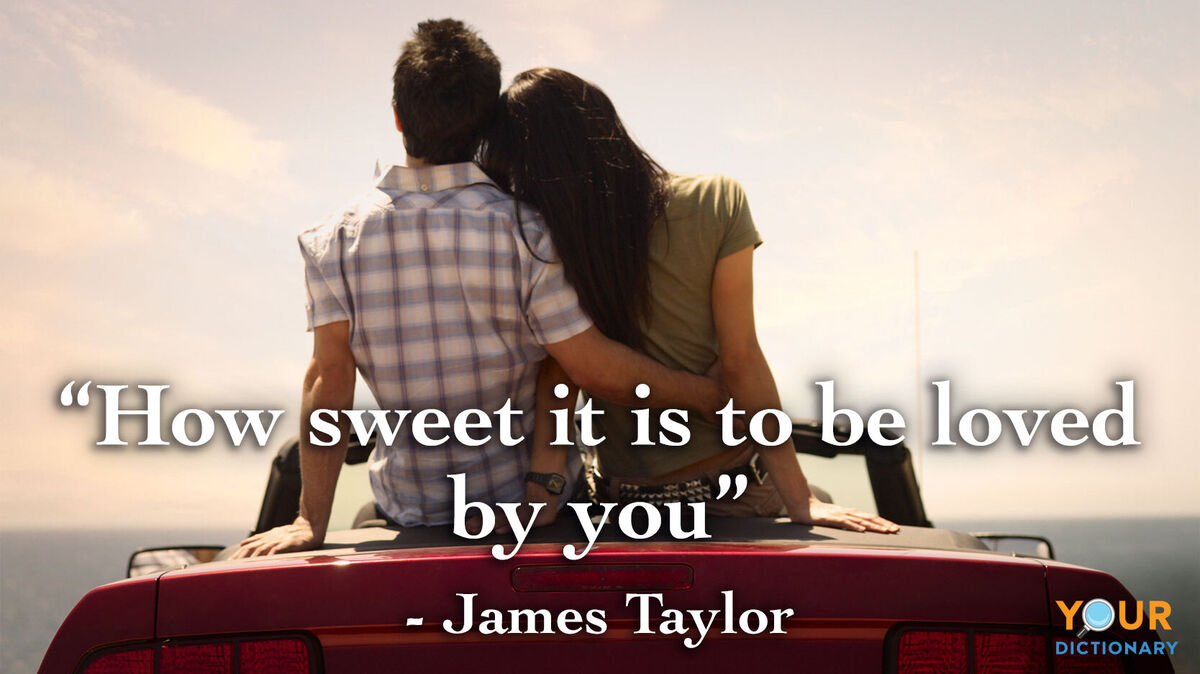 "Love is the answer and you know that for sure" - "Mind Games," John Lennon
"The touch of your hand says you'll catch me wherever I fall/ You say it best, when you say nothing at all" - "When You Say Nothing at All," Ronan Keating
"Give your all to me/ I`ll give my all to you/ You`re my end and my beginning/ Even when I lose I`m winning" - "All of Me," John Legend
"When you say you love me/ Know I love you more/ When you say you need me/ Know I need you more" - "Adore You," Miley Cyrus
"If you're lost you can look and you will find me/ Time after time" - "Time After Time," Cyndi Lauper
"Look at the stars/ Look how they shine for you/ And all the things that you do" - "Yellow," Coldplay
"Hit me like a ray of sun/ Burning through my darkest night/ You're the only one that I want/ Think I'm addicted to your light" - "Halo," Beyoncé
"There's ups and downs in this love/ Got a lot to learn in this love/ Through the good and the bad, still got love" - "Countdown," Beyoncé
"I need you/ Oh yes I do/ I need you like water/ Like breath, like rain" - "I Need You," Lee Ann Rimes
"But I see your true colors/ Shining through/ I see your true colors/ And that's why I love you" - "True Colors," Cyndi Lauper
"There is no fear now/ Let go and just be free/ I will love you unconditionally" - "Unconditionally," Katy Perry
"You're still the one who can scratch my itch/ You're still the one that I wouldn't switch/ We're still having fun, and you're still the one" - "Still the One," Orleans
"Now you're liftin' me up, 'stead of holdin' me down/ You're takin' my hand, 'stead of takin' my crown" - "Butterflies," Kacey Musgraves
"Oh, home, let me come home/ Home is wherever I'm with you" - "Home," Edward Sharpe and the Magnetic Zeros
"How sweet it is to be loved by you" - "How Sweet it Is," James Taylor
"Oh now, I need you in my arms, need you to hold/ You're my world, my heart, my soul" - "How Do I," Trisha Yearwood
"I'm crazy for you/ Touch me once and you'll know it's true/ I never wanted anyone like this/ It's all brand new" - "Crazy for You," Madonna

"And I meant/ Every word I said/ When I said that I loved you I meant that I loved you forever" - "Keep on Loving You," REO Speedwagon
"You fill my life with laughter/ And somehow, you make it better/ Ease my troubles, that's what you do" - "Have I Told You Lately," Rod Stewart
"Sweet wonderful you/ You make me happy with the things you do" - "You Make Loving Fun," Fleetwood Mac
"I hope you don't mind/ that I put down in words/ how wonderful life is while you're in the world." - "Your Song," Elton John
"Though I know I'll never lose affection/ For people and things that went before/ I know I'll often stop and think about them/ In my life I love you more" - "In My Life," The Beatles
"Sometimes, all I need is the air that I breathe/ And to love you" - "The Air That I Breathe," The Hollies
Romantic Sayings and Descriptions