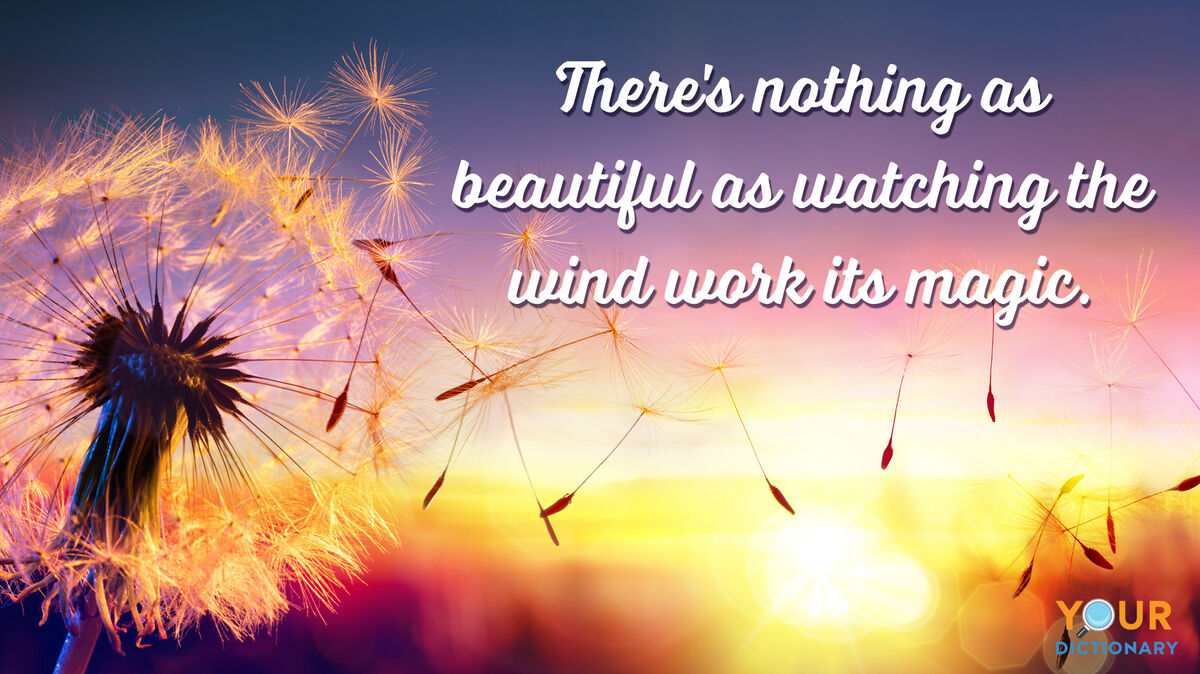 Are you looking for the perfect quote that mentions wind? Whether you're looking for some original creative sayings or a quote from a song, literature or a well-known leader, you've come to the right place. Explore a selection of wind quotes, with options appropriate for every occasion.
If you're looking for some original quotes about wind, consider these options. Then, discover a selection of quotes from musicians, authors and other important figures.
There's nothing as beautiful as watching the wind work its magic.
From the summer breeze to the north wind, you and I will always be friends.
No matter what blows in with the wind, you're strong enough not to break, but only to bend.
May the winds of fortune ever be in your favor.
Is wind good or bad? It's both. It can vary from a gentle warm breeze to the fury of a hurricane or tornado.

Live life always like the wind is at your back and your sails are flying high.
We should all be so lucky as to have a friend who is the wind beneath our wings.
When love is in front of you, run toward it like the wind is at your back every step of the way.
When social change is in the air, the winds of fortune may turn the tide toward justice.
Wind Quotes From Song Lyrics
The concept of wind is often mentioned in song lyrics, from classic tunes of days gone by to popular hits. Some songwriters write about howling wind or blowing wind, while others write about wind more figuratively.
"Shoulda let that rest gon' fly away/ Like any chance I had of keeping you/ Like the Northern Wind that blowin'/ Yeah my lonely heart is frozen" - "The Wind," Zac Brown Band

"Because I'm easy come, easy go,/ Little high, little low,/ Any way the wind blows doesn't really matter to me, to me" - "Bohemian Rhapsody," Queen
"So high I almost touch the sky/ Thank you, thank you/ Thank God for you, the wind beneath my wings" - "Wind Beneath My Wings," Bette Midler
"Against the wind/ We were runnin' against the wind/ We were young and strong, we were runnin' against the wind" - "Against the Wind," Bob Seger

"And she said, 'Losing love is like a window in your heart./ Everybody sees you're blown apart. Everybody feels the wind blow.'" - "Graceland," Paul Simon
"All my dreams/ Pass before my eyes, a curiosity/ Dust in the wind/ All they are is dust in the wind" - "Dust in the Wind," Kansas

"And it seems to me you lived your life/ Like a candle in the wind/ Never knowing who to cling to/ When the rain set in" - "Candle in the Wind," Elton John

"How many times can a man turn his head/ And pretend that he just doesn't see?/ The answer, my friend, is blowin' in the wind/ The answer is blowin' in the wind" - "Blowin' in the Wind," Bob Dylan
"The summer wind came blowin' in from across the sea/ It lingered there, to touch your hair and walk with me" - "Summer Wind," Frank Sinatra
"A wet sheet and a flowing sea/ A wind that follows fast/ And fills the white and rustling sails/ And bends the gallant mast" -"A Wet Sheet and a Flowing Sea," Allan Cunningham
More Literary Wind Quotes
Poems are not the only form of literature where you're likely to find quotes about wind. There are many references to the wind in works of literature such as novels, plays and short stories.
Wind Quotes From Key Leaders
References to wind often find themselves in speeches given or content written by leaders seeking to inspire or motivate an audience. From political leaders to civil rights activists and great entrepreneurs, many well-known leaders have brought up the topic of wind in their work.
Now that you have reviewed a selection of quotes about wind, spend some time exploring some seasonal literature. Start by perusing some spring poems. Then, while you're considering the power and beauty of nature, reflect on some of the most awe-inspiring places on Earth. Finally, you might just enjoy some insightful quotes from other unexpected places, like Kermit the Frog quotes.