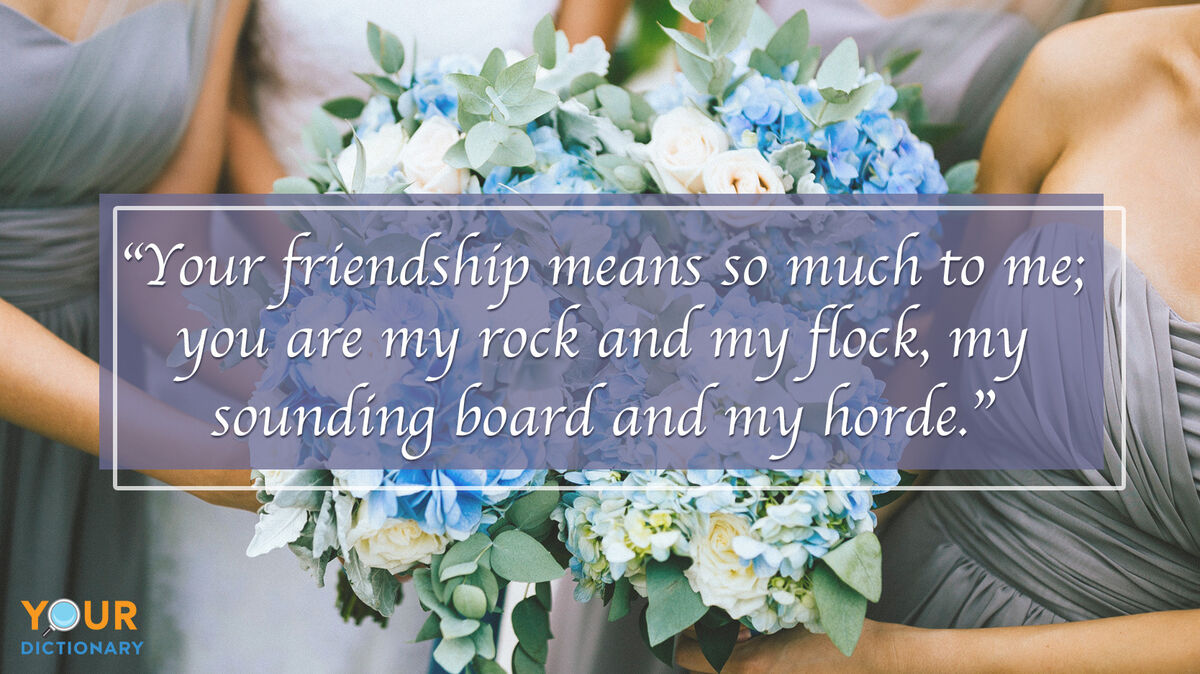 Finding the right bridesmaid quotes is an important task for any bride-to-be. Are you trying to find the right words to ask your besties to become part of your wedding party? Do you want to let your girlfriend crew know what their participation in your wedding means to you? From bridesmaid quotes for Instagram to the perfect saying for wedding party novelties, you're sure to find inspiration for the perfect words in these bridesmaid sayings. Explore original quotes along with some sourced sayings from pop culture and literature.
Bridesmaid Quotes for Friends
Looking for the perfect bridesmaid quotes for your inner circle of friends who will stand up with you at the altar? These thoughtful quotes about bridesmaids provide lovely sentiments to share. Use them when asking your besties if they'll be a part of your wedding party or to express your appreciation.
Your friendship means so much to me; you girls are my rocks and my flock, my sounding boards and my horde.

There's no else I can even picture standing by my side as I take the leap from Miss to Mrs.

We may not have taken a vow, but our friendship is forever. Thank you so much for being here with me now.
With you by my side, I'm one lucky bride.
You're the most durable strand in my string of pearls; nothing replaces the bond between us girls.
There are friends and then there are sisters of the soul. You, my dear friend and bridesmaid, are the latter.
My husband knows he's gaining not just a wife, but this tribe of incredible women who will always be my best friends for life.

Would today have been possible without you in my life? Our friendship has weathered good times and strife. It's no surprise we're together as I become a wife.
No occasion would be a true celebration without you in the equation.
"Bridesmaid for a day, but a best friend for life ..." - Unknown

Pop the Question Quotes: Will You Be My Bridesmaid?
How can you invite your closest friends to play an important role in your wedding party? You could simply say, "Will you be my bridesmaid?" However, you may be looking for something a bit more creative than that. One of the following quotes might provide you with the perfect way to ask this all-important question.
The day we met, I knew we'd be friends forever. How could I get married without you by my side?

You stood up for me on the neighborhood playground; won't you stand with me the day I wear my wedding gown?

Your friendship grounds me; your support, it surrounds me. On my wedding day, by my side is where I hope you'll be.

We've been inseparable since school's first day; now I need you by my side on my wedding day. Will you be in my wedding party?

Through thick and thin, you're always there my friend. I need you by my side as this new chapter of my life is set to begin.
From preschool to scouting, then to cheering and shouting, then teen drama and pouting, won't you stand with me on my last single girl outing?
From the time we were kids together we played; when I pictured my wedding, I always saw you as my bridesmaid.
You'll be ever so pretty in pink, down the aisle before me you'll go in a blink. Will you be a bridesmaid, what do you think?
What would I do without you? Where would I be without you? How can I get married without you by my side? Please agree to be a bridesmaid.

"So on my wedding day, I will need you more than ever. Please say you'll be my bridesmaid … And my friend forever!" - Unknown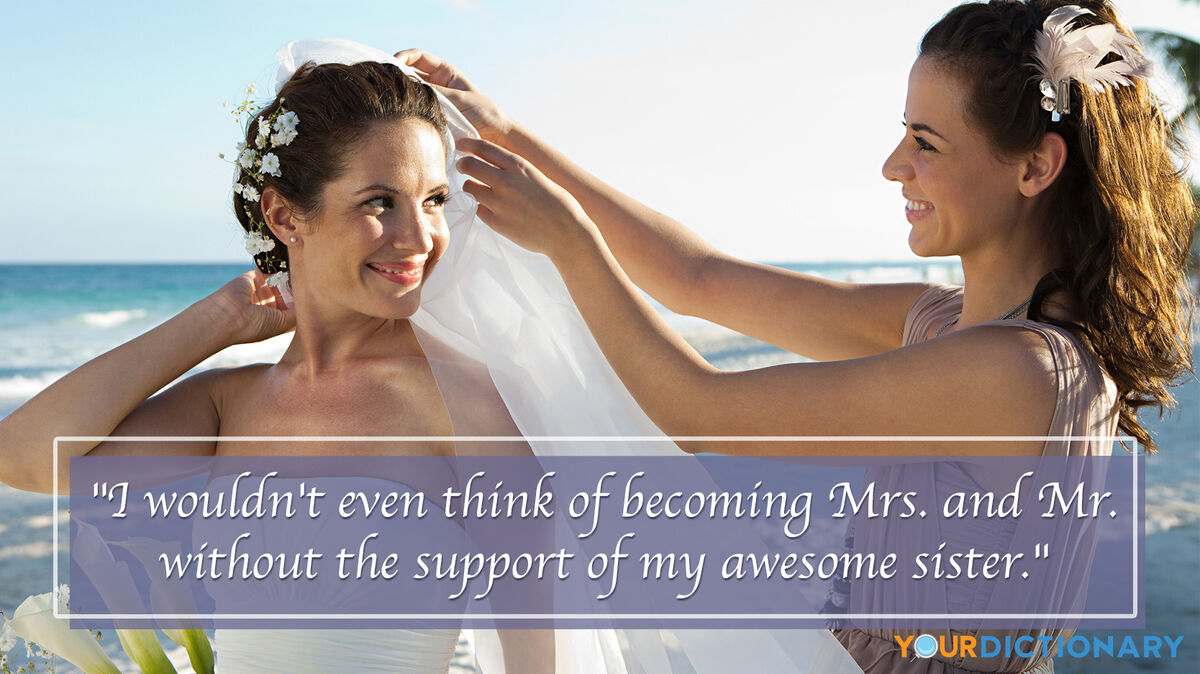 Bridesmaid Quotes for Sisters and Other Relatives
Will your bridesmaid posse include your sister(s), cousins or other relatives? If so, consider one (or more!) of these special quotes for the family members that you'd choose even if you weren't actually related.
I wouldn't even think of becoming Mrs. and Mr. without the support of my awesome sister.
Family is something you and I will always be; it's so incredible on this day to have you standing up with me.
You and I may not have taken a vow, but you're my family forever and now.
Thank you for being by my side as our family expands to make room for my groom.
We're family my blood, but our bond is based on love. Please share in my wedding celebration by being a bridesmaid for this momentous occasion.
We've been together our whole lives; this day would not be complete without you by my side.
Cousin of mine you were my first best friend; I couldn't take this step without you joining in.
Even if we weren't related, even then I'd be elated to have you by my side on the special day I become a bride.
Cousin, you've been there for every important event in my life. Please be a bridesmaid and stand by my side as I become a wife.
Sister, you lift me up when I am down, you've helped me turn around my life. Please stand up for me as I celebrate the love I've found and become a wife.
Sister, no major life event is complete without you by my side. Please join in the wedding party as I become a bride.
Quotes for Bridesmaids to Say
Not all quotes about bridesmaids are about the ladies of the wedding party. They also get to speak up about their role in the bride and groom's big day. From accepting the bride's request to join the wedding party to sharing thoughts about friendship and the future, these sayings are more for the bridesmaids to share than about them.
I'll always be where you need me to be. By your side today as you take your vows, whatever you need, anywhere anyhow.
What an honor indeed to stand up with you; I'm so happy to play a role in seeing this next phase of your life come through.
From the school play to your wedding day, we've had some adventures along the way. Best wishes for a long and happy marriage.
Nothing could make me happier than to lift this flute of champagne in honor of my bestie and the guy who got her to change her name!
The wedding is fun; it's a party and will be done. What comes tomorrow is your new life as a wife. Something that will never end, we will always be best friends.
It's an honor to share in your special day, friends forever come what may. You'll always be a sunshine ray who lights up any room all the way.
I've loved you since we were kids. I wish you every joy and happiness that marriage has to give.
My friend, you are the loveliest bride. I am so proud and honored to stand by your side.
I wish you love, I wish you joy on this special day and many more, no matter what the future has in store.
What a fabulous adventure awaits you, the bride. Thank you for involving me in this part of the ride. Best wishes to you, my friend, the sparkling bride.
Pop Culture Bridesmaids Quotes
Looking for a bridesmaid quote that you can attribute to someone else? There are quite a few fun, serious and even sarcastic sayings from movies, books, poems, celebrities, and other sources from the world of pop culture.
Expressing Feelings to Your Closest Friends
Whether you're the bride or one of the bridesmaids, one thing for sure is that the person you're talking to or about is likely one of your closest friends. If you're still struggling to find the right words to use, explore a selection of words that describe a good friendship for more ideas. Or, if you're looking for something longer to say, you may want to use a bridesmaid poem. You may even find the perfect words hidden in examples of familiar proverbs. Whatever words you opt to use, make sure they convey the special message you'd like to share.