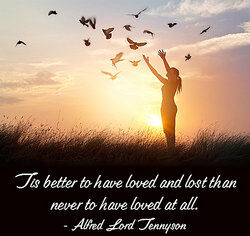 Almost everyone at some point makes changes in their lives. Whether you are moving on and leaving home for the first time, graduating from school and saying goodbye to your friends, breaking up with a significant other or leaving a job, at some point you are going to have to make a break with your past in some way. Moving on and making life changes can be painful and difficult, but it can also be exciting. No matter what your circumstances, some quotes about moving on will help you to find solace in the fact that others have also experienced what you are feeling.
The following quotes about moving on have been collected from information around the Internet. The quotes are those that have become well known and well loved by people looking for words of wisdom when moving on.
General Quotes About Moving On
You are responsible for your life. You can't keep blaming somebody else for your dysfunction. Life is really about moving on. - Oprah Winfrey
Don't cry because it's over, smile because it happened. - Dr. Seuss
Sometimes the cards we are dealt are not always fair. However you must keep smiling & moving on. - Tom Jackson
Some of us think holding on makes us strong; but sometimes it is letting go - Hermann Hesse
Life is like riding a bicycle. To keep your balance you must keep moving. - Albert Einstein
Moving on, is a simple thing, what it leaves behind is hard. - Dave Mustaine
Quotes About Saying Goodbye
Parting is all we know of heaven and all we need to know of hell. - Emily Dickinson
Sometimes, when one person is missing, the whole world seems depopulated. - Lamartine
Nothing makes the Earth seem so spacious as to have friends at a distance; they make the latitudes and longitudes. - Henry David Thoreau
Love is like a puzzle. When you're in love, all the pieces fit but when your heart gets broken, it takes a while to get everything back together. - Unknown
Tis better to have loved and lost than never to have loved at all. - Alfred Lord Tennyson
The most beautiful discovery true friends make is that they can grow separately without growing apart. - Elisabeth Foley
Excuse me, then! you know my heart; But dearest friends, alas! must part - John Gay
You and I will meet again; When we're least expecting it; One day in some far off place; I will recognize your face; I won't say goodbye my friend, For you and I will meet again - Tom Petty
We all take different paths in life, but no matter where we go, we take a little of each other everywhere. - Tim Mcgraw
Those who do not know how to weep with their whole heart do not know how to laugh either." - Golda Meir
Some people come into our lives and leave footprints on our hearts and we are never ever the same. - Flavia Weedn
Funny Quotes About Moving On
Nothing takes the taste out of peanut butter quite like unrequited love. - Charlie Brown
If you're going through hell, keep going. - Winston Churchill
Don't go away mad, just go away! - Motley Crue
So, now you have a lot of different quotes about moving on and hopefully some of them will help you in your own situation.