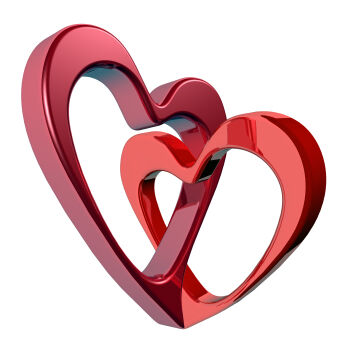 There are endless ways to tell someone you love them. Whether you're having a heart-to-heart with your significant other or want to send a letter to someone special, a sweet quote can give you just the right words to express your love. Here are some very sweet love quotes that just might make the cut!
Finding the Right Love Quote
It can be difficult to find the right words when you want to tell someone what's in your heart. The following quotes should prove helpful as you try to express your emotions. Some of these quotes are from unknown authors while others are from well-known writers. You can always tailor the quote to fit your particular situation.
Consider the following sentiments, based on your intentions:
Perhaps you don't want to go too deep. If you merely want to send some light-hearted sentiments, consider these quotes that err more on the side of "cute" than romantic.
If you live to be a hundred, I want to live to be a hundred minus one day so I never have to live without you. - A.A. Milne
I love you to the moon and back. - Unknown
You know you're in love when you can't fall asleep because reality is finally better than your dreams. - Dr. Seuss
My favorite place in the world is right next to you. - Unknown
And in her smile I see something more beautiful than the stars. - Beth Revis
I need you, you need me, 'cause that's the way it's meant to be. I need you. We need each other. - Sanctus Real
So this is love, so this is what makes life divine. - Disney's Cinderella
Forever is a long time, but I wouldn't mind spending it by your side. - He Is We
Love is a song that never ends. - Disney's Bambi
If it's romantic love you mean to convey, you can't go wrong with any of these lines.
Love is composed of a single soul inhabiting two bodies. - Aristotle
What I have with you, I don't want with anyone else. - Unknown
The hours I spend with you I look upon as sort of a perfumed garden, a dim twilight, and a fountain singing to it. You and you alone make me feel that I am alive. Other men it is said have seen angels, but I have seen thee and thou art enough. - George Edward Moore
I will never finish falling in love with you. - Unknown
Whatever our souls are made of, his and mine are the same. - Emily Brontë
If I could be anything in the world I would want to be a teardrop because I would be born in your eyes, live on your cheeks, and die on your lips. - Unknown
Two souls with but a single thought. Two hearts that beat as one. - Friedrich Halm
You are, and always have been, my dream. - The Notebook, Nicholas Sparks
To fan the flames of love - and leave a touching sentiment in your wake - consider any one of these illustrative lines.
For it was not into my ear you whispered, but into my heart. It was not my lips you kissed, but my soul. - Judy Garland
You are the first and last thing on my mind each and every day. - Unknown
Life is the flower for which love is the honey. - Victor Hugo
The spaces between your fingers were created so that my fingers can fill them in. - Unknown
Life without love is like a tree without blossoms or fruit. - Kahlil Gibran
If I had to choose between loving you and breathing, I would use my last breath to say, "I love you." - Unknown
If I had a flower for every time I thought of you, I could walk in my garden forever. - Alfred Lord Tennyson
You are the best decision my heart ever made. - Kennedy Ryan
In all the world, there is no heart for me like yours. In all the world, there is no love for you like mine. - Maya Angelou
Now that you have some sweet quotes ready to use on your loved one, how about adding a few lines of a romantic poem? Many of the sweetest love verses can be found in poetry.
From "How Do I Love Thee?" by Elizabeth Barrett Browning:
How do I love thee? Let me count the ways.
I love thee to the depth and breadth and height
My soul can reach, when feeling out of sight
For the ends of being and ideal grace.
From "She Walks in Beauty" by Lord Byron:
She walks in beauty, like the night
Of cloudless climes and starry skies;
And all that's best of dark and bright
Meet in her aspect and her eyes.
From "i carry your heart with me" by E. E. Cummings:
i carry your heart with me (i carry it in
my heart) i am never without it (anywhere
i go you go, my dear; and whatever is done
by only me is your doing, my darling)
From "Sonnet VIII: If Your Eyes Were Not The Color Of The Moon" by Pablo Neruda:
But when I hold you I hold everything that is -
sand, time, the tree of the rain,

everything is alive so that I can be alive:
without moving I can see it all:
in your life I see everything that lives.
If you can't find just the right quote to describe how you feel, you can always create an original sweet line or poetry verse using your own loving words. When doing so, be sure to include some of the following elements:
Who your love is directed at
What makes your love so special
Anything unique or outstanding that sets your beloved apart from others
Romantic words that come from your heart
Anything special between the two of you
The story of how you met or fell in love
You can use a love quote when talking to that special someone in your life (or someone you hope will be special) and want to let them know how much they mean to you. You can also use a loving quote in the following situations:
As part of a message in a birthday or anniversary card
As a Valentine's Day message
When writing a letter to your love
For your wedding vows
As part of an apology to your significant other
When proposing marriage
Sweet quotes on love are ideal when you want to open your heart and express your true feelings to the one you love. A simple quote can make a big impact and leave a lasting impression. If you're still searching for that perfect quote about love, we have a vast library of love quotes at your disposal.