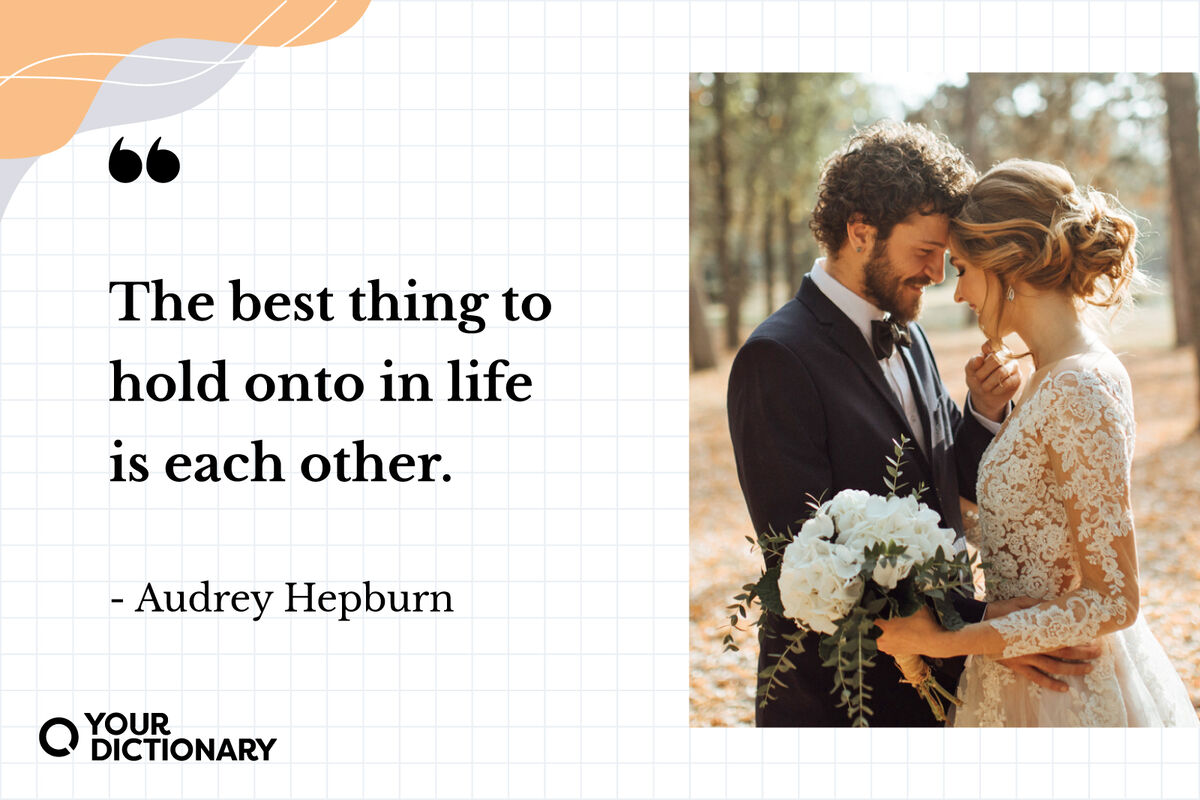 A wedding is one of the most joyful times in a young couple's life. It's also a wonderful celebration for extended family and friends, who get to take part in a hopeful look at the future and reflect on the importance of love, romance and commitment.
Knowing just what to say before, during and after a wedding doesn't have to be tricky. For wedding speeches, toasts and notes to accompany gifts, you can offer your heartfelt congratulations to the couple or share a few thoughts about the meaning of marriage. You can also express gratitude for being involved in their special day or share some humor. No matter what type of emotion you're looking to share these wedding sayings will help you get your point across.
Wedding Quotes About Love and Marriage
Love makes the world go round, and it's the whole reason to have a wedding in the first place. These quotes about love show what marriage is all about.
"There is only one happiness in this life: to love and be loved." - George Sand
"Being deeply loved by someone gives you strength, while loving someone deeply gives you courage." - Lao Tzu
"A successful marriage requires falling in love many times, always with the same person." - Mignon McLaughlin
"True love stories never have endings." - Richard Bach
"The best thing to hold onto in life is each other." - Audrey Hepburn
"You know you're in love when you can't fall asleep because reality is finally better than your dreams." - Dr. Seuss
"A wedding is an event, but marriage is a life." - Myles Munroe
"The real act of marriage takes place in the heart, not in the ballroom or church or synagogue. It's a choice you make - not just on your wedding day, but over and over again - and that choice is reflected in the way you treat your husband or wife." - Barbara De Angelis
Humorous Quotes About Marriage
A strong marriage is one that can weather adversity with good humor. Sometimes marriage is hard, but successful relationships are ones in which partners have the ability to laugh at themselves.
"Marriage has no guarantees. If that's what you're looking for, go live with a car battery." - Erma Bombeck
"I now pronounce you man and wife. You may now change your Facebook status." - Unknown
"I love being married. It's so great to find one special person you want to annoy for the rest of your life." - Rita Rudner
"Marriage is like vitamins: We supplement each other's minimum daily requirements." - Kathy Mohnke
"To keep your marriage brimming; With love in the loving cup; Whenever you're wrong, admit it; Whenever you're right, shut up." - Ogden Nash
"A wedding is a funeral where you smell your own flowers." - Eddie Cantor
Traditional Wedding Sayings
When a couple decides to wed, they join a long tradition of marriage across many lands and cultures. Many philosophers have shared their thoughts about the institution of marriage and its meaning over the years.
"There is no more lovely, friendly and charming relationship, communion or company than a good marriage." - Martin Luther
"What is a vow, but an intention spoken out before the world so that the world, in hearing, might take part in aspirations of the willing heart? In our coming here today to join and bless the joy of your becoming wed, may we enter in the truth of the words you've said, "I do." - Maureen Tolman Flannery
"Grow old along with me! The best is yet to be, the last of life, for which the first was made. Our times are in his hand who saith, 'A whole I planned, youth shows but half; Trust God: See all, nor be afraid!'" - Robert Browning
"In as much as love grows in you, so in you beauty grows. For love is the beauty of the soul." - Saint Augustine
"He's more myself than I am. Whatever our souls are made of, his and mine are the same." - Emily Brontë
Quotes to Express Gratitude
A wedding is the perfect time to express both joy and gratitude. Whether you're thankful for the love of friends who have showered you with gifts or for lifelong friendships, these quotes will help you say what you feel.
"When we give cheerfully and accept gratefully, everyone is blessed." -Maya Angelou
"Gratitude is not only the greatest of virtues, but the parent of all others." -Cicero
"I appreciate you more because of the road I've travelled. My story brought me to you and I wouldn't revise a word of my past if it led me anywhere but to your door." - Aaron Polson
"You changed my life without even trying, and I don't think I could ever tell you how much you mean to me. I can't imagine what things would be like if I hadn't met you." - Steve Maraboli
"We can only be said to be alive in those moments when our hearts are conscious of our treasures." - Thornton Wilder
Whether you want to make people laugh or perhaps tear up with sentimentality, it's not hard to say the right thing at a wedding. Let your emotions be your guide and speak from the heart, and you're sure to strike the right tone.