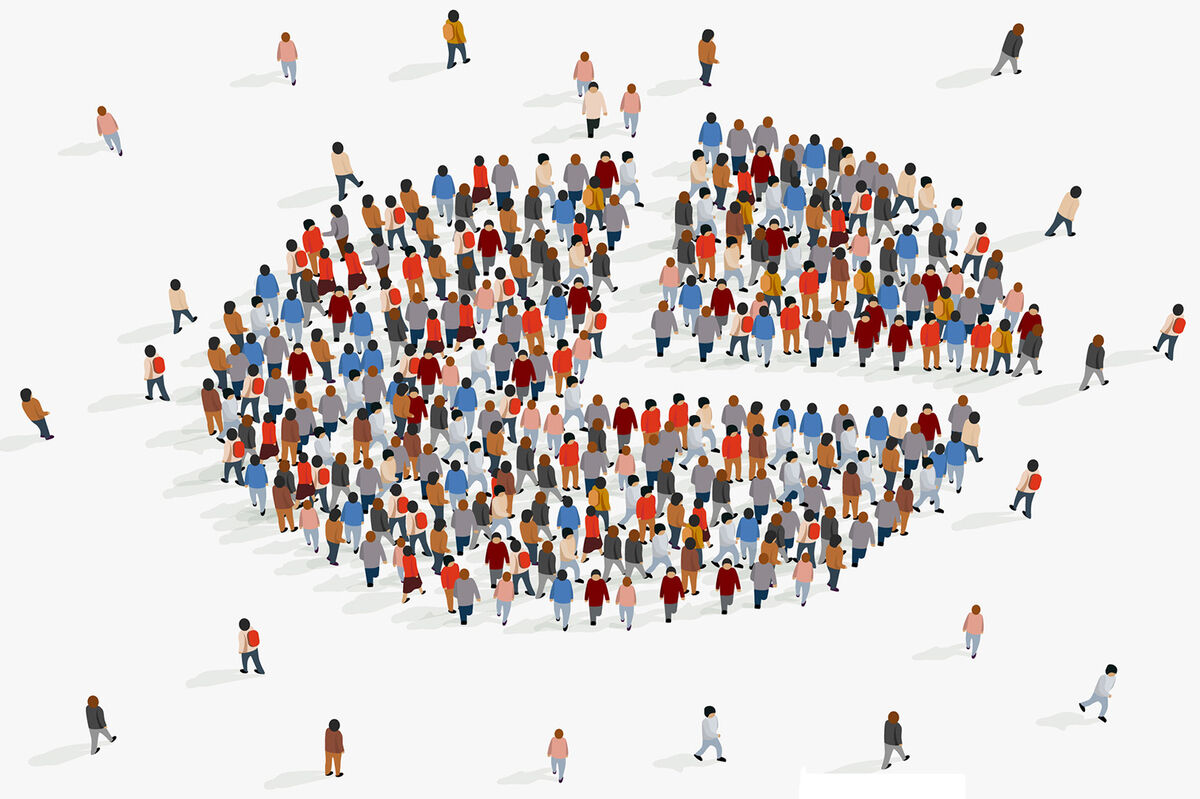 Breaking information up into measurable characteristics can make it easier to understand. This is especially true of demographics. Find out what demographics are using simple terms and explore some examples of common demographics you might encounter in your community or the world at large.
Demographics: Breaking Down a Population
When you look at demographics of a population, you're looking at statistics. These statistics can help you to break down the common characteristics of the population into digestible segments. This can include age, race, family size and much more. You might look at demographics for your area, the world as a whole, or even just a random sampling.
For example, demographics can give you specifics like how many 20-year-olds live in Chicago or the number of married couples in Manhattan. You might be able to find out the racial diversity of Louisiana by exploring racial demographics or learn how many children are in your area through family size demographics.
What Are Demographics Used For?
Demographics have vast uses in society.
Demographic factors and data are oftentimes used in the context of politics and government. For example, a Democratic politician might look at the political affiliation of an area to assess if their campaign will be successful. Similarly, a local government might use the income level of an area to justify building more low income housing.
One of the largest uses of demographics is for customer segmentation in business. Understanding demographic data can make or break a business. This is because businesses need to understand their customer base when creating new products or marketing, expanding their stores, and even when starting a new business in the first place.
If a business fails to understand their customer base, this is a surefire recipe for disaster.
For example, an online education company might use site demographics and traffic of a famous blogger with a reader demographic of 80% women to justify paying her to promote an online campaign. A hot arcade might look at the student demographics of a particular area when deciding to open a new store in an area or where to market their hottest game.
Common Demographic Examples
Just like people, demographics come in all shapes and sizes. Some corporations, governments or nonprofits might look for unique or specific demographic data like income level, while others might explore several demographics at once.
Common demographics that you might encounter, including examples of each, include:
Age: Under 12, 12 to 17, 18 to 24, 25 to 34... (these typically go on at 10-year increments)
Sex (gender): Male, female, other nonbinary identities
Income level: Under $15,000, $15,000 to $24,999, $25,000 to $34,999... (distribution brackets will vary based on who is being sampled)
Race: Caucasian, African American, American Indian, Latino, Asian, Pacific islander
Ethnicity: Jewish, Arab, Irish, Dutch, Russian, Swedish
Employment status: Employed, unemployed, self-employed, retired, disabled
Education level: High school, some college, undergraduate degree, graduate degree
Number of children: None, 1 to 2, 3 to 5, 5 or more...
Living status: Own, rent, lease, other
Location (geographical data): Zip code, city, county, state, country
Political affiliation: Republican, Democrat, independent
Marital status: Single, married, separated, widowed
Religious affiliation: Muslim, Buddhist, Hindi, Catholic, Jewish
Social class: Lower class, middle class, upper class
Nationality: American, Mexican, German, Swiss, Finnish, French
While these are some of the most common, you will find other demographics that might cover birth and death rates, marriage rates and more. If a population can be grouped, it likely will be.
Why Are Demographics Important?
The importance of demographics lies in the fact that these factors can turn a population into something that you can measure. You can measure and compare the age of your customers. You can measure the proportion of families in need in your neighborhood. When a population becomes measurable, you can make changes to improve your company, government or community.
For a business, this means you know who your customers are. Therefore, you can better meet their needs. This will allow you to spend your marketing budget more effectively or discover new markets.
For a government, you know how to tailor your programs, budgets, and resources to best meet the needs of your town, city or state. Demographics can help a government understand the need for a community center or to get a grant for a new park.
Educational professionals can use demographics to better meet the needs of students in school.
Scientists can look to demographic factors as a meaningful way to organize data and to better understand the dynamics of a given population.
Demographics allow a company, government and even scientific institute to group people based on specific characteristics like race, gender and location. Since you've got demographics down to a science, give a look into stereotypes and the impact they have.