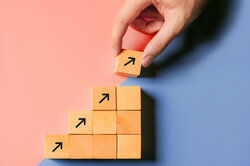 Does your resume look boring? Ever feel like you're stuck in a rut in your career? Having specific goals to help you become more successful is your first step. Read below for examples of long-term goals for success and how to create them. Also, find out why it is important to create measurable and achievable goals.
What Is a Long-Term Career Goal?
Creating clearly established long-term goals can not only get you prepped for success, they can also show employers what you are working toward. Long-term goals are exactly how they sound: they are long term. This means that they won't happen in a week or even a month.
Long-term goals are those goals that you would like to see happen in a year or a few years. They're aspirations to keep you focused on future success in your career. Remember, Rome wasn't built in a day, and your career goals shouldn't be either.
Setting Career Goals for Success
When it comes to setting career goals that will be successful, it's important to use the S.M.A.R.T. method. You need to think of your goals using five different criteria. These include:
Specific: Rather than just saying you want to earn more money, you need to be specific about how you'll do it. For example, you might say you want to earn more money by becoming more productive and gaining leadership skills.
Measurable: If your goal isn't measurable, how are you going to know you're close or you've achieved it? You must be able to measure the progress that you've made. With the earning example, this means naming a specific number.
Achievable: When setting your goals, you need to think about ones that are realistic. Setting a goal to be a singer, if you're tone deaf could be unrealistic. You're trying to push yourself, not set yourself up to fail.
Relevant: If you have a degree in human resources, you might want to set your career goals in relation to this background and career trajectory. Setting goals for an artist wouldn't be relevant toward your overall life goals.
Time-Bound: To create a sense of urgency, you want to give a clear start and end date for your goals. You could even set a potential end date, like how you'll earn X dollars in four years.
Using this method will help you create specific, measurable goals that set you on the path to a successful future.
Reaching Your Career Goals
Long-term goals are supposed to happen in the future. That means you need milestones and short-term goals as a way to help you track your progress. For example, say you have a long-term career goal to "gain a management position in two years." You can set short-term goals to increase your productivity monthly or weekly, reduce your errors, learn new productivity methods, and check for new opportunities every two weeks. These shorter goals become a guide on your path to long-term success.
Long-Term Career Goal Examples
When it comes to your long-term goals, you should tailor them to your specific career field. However, there are a few career goal examples that can be molded to any profession.
Gain Leadership Experience
Acquiring leadership experience is typically one of the first steps toward advancing in your career.
You might choose to gain leadership experience by taking classes or attending seminars. For example, a structural engineer might choose to create a goal of attending 10 engineering convention seminars before graduation. An HR professional might choose to set a long-term career goal of attending two Society of Human Resource Management (SHRM) conventions.
In order to be successful in any career, you need to build your network and brand yourself. This is especially important in business.
For instance, a business analyst might work to get 50 professional recommendations on LinkedIn. An accountant, on the other hand, might work for 20 professional recommendations in a year. No matter what your goal is for networking, just make sure to keep it realistic and relevant.
Publish Professional Articles
Writing professional articles in your field is a great way to demonstrate your expertise. The number of articles you choose to publish is going to depend on your field.
For example, an HR professional goal might be to publish three HR articles a year in a professional journal or magazine. A medical doctor might have the goal to publish 20 professional articles within a year.
Gaining global experience in your field is important to widen your network and understand new and dynamic markets. You could gain global experience through professional seminars and conferences or charity work and trips abroad. Try to set an attainable career goal for gaining global experience, like attending two national conventions a year. This can be a great opportunity especially for recent graduates, providing a broader perspective on the industry.
Sometimes in your field, you get stuck in a rut of completing a process the same way every time. While your current method might lead to good results, not examining new processes or techniques can be limiting your career. Depending on how long they take, you might set a long-term career goal to try a new method every two years or a few methods each year.
Join Professional Organizations
Not only are you looking to join a professional organization, but you'd also want to gain a leadership role in that organization. Many organizations have specific criteria that you must meet to qualify for membership, and these could take years to complete.
For example, to join the SHRM and gain a leadership position could be a successful long-term goal for an HR professional. Similarly, a business analyst might set a two-year goal to gain a leadership role in the American Management Association (AMA).
Get Professional Certification
Professional certification of any kind from a recognized professional organization is a great way to make yourself stand out. Consider setting a long-term goal of working toward professional certification.
A bookkeeper might set the goal to become a certified public accountant (CPA), which requires meeting education and testing requirements. Short-term goals could be to take classes to meet the education requirements, study for the test, and take the exam. HR professionals could set a goal to achieve professional certification through SHRM.
Career Goals for Interviews
Your long-term goals are important to future employers. In a job interview, more than looking at your resume, they want to make sure that their employees have drive and a vision for their future. This means that you might come across questions about your goals during the interview process. Having short- and long-term goals already in place will prepare you for their questions and show your initiative.
When it comes to your career, you want to be successful. Having long-term goals to follow can help you build the path to your success. In addition to career goals, you might want to explore some worthwhile personal goals as well.