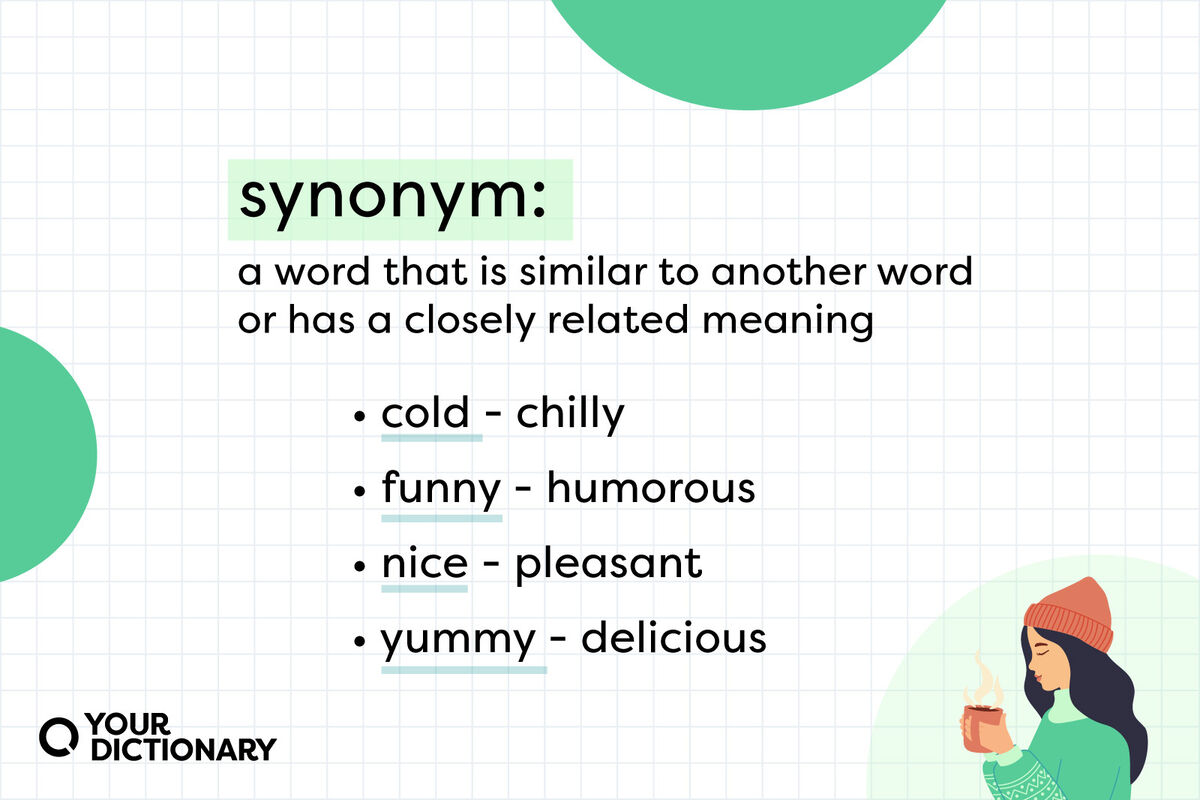 Synonyms are words that are similar to another word or have a related meaning. They can be lifesavers when you want to avoid repeating the same word over and over. Sometimes the word you have in mind might not be the most appropriate word, which is why finding the right synonym can come in handy. Expand your vocabulary with an extensive selection of synonyms examples.
Working with synonyms can make your writing more varied and help expand your vocabulary. Build your vocabulary with these synonyms words.
ability - capability, competence, skill
achieve - attain, accomplish, realize, reach
angry - furious, irate, livid
appreciate - cherish, treasure, value
baffle - bewilder, confuse, perplex, puzzle
beautiful - attractive, pretty, lovely, stunning
bossy - controlling, domineering, overbearing
but - although, besides, though
challenge - dispute, question
cold - chilly, chilled, wintry
create - generate, make, produce
cute - adorable, delightful, endearing
develop - enlarge, evolve, expand, grow
different - dissimilar, distinct, unusual
difficult - grueling, hard, strenuous
effective - functional, operational, successful
example - illustration, like, such as
excited - exhilarated, electrified, thrilled
fair - just, objective, impartial, unbiased
focus - center, cornerstone, focal point
fun - entertaining, enjoyable, pleasurable
funny - humorous, comical, hilarious, hysterical
goal - intent, purpose, target
good - acceptable, satisfactory
great - exceptional, extraordinary
Strengthen your communication skills with additional synonyms from the middle of the alphabet.
happy - content, joyful, mirthful, upbeat
hardworking - diligent, determined, industrious, enterprising
hate - abhor, loathe, detest, despise
honest - honorable, fair, sincere, trustworthy
however - nevertheless, nonetheless, yet
hypocrisy - duplicity, falseness, deceit
important - required, vital, essential, primary, significant, critical
intelligent - smart, bright, brilliant, sharp
introverted - shy, bashful, quiet, withdrawn
job - position, occupation, role
judge - conclude, determine, decide, gauge
justify - substantiate, show cause, demonstrate
journey - trip, travel, trek
key - critical, crucial, fundamental,
kind - thoughtful, considerate, amiable, gracious
knowledge - awareness, comprehension, understanding
lazy - idle, lackadaisical, lethargic, indolent
love - attachment, deep affection, paramour
lucky - auspicious, fortunate, fortuitous
mean - unfriendly, unpleasant, bad-tempered, difficult
more - additional, further, supplemental
money - cash, currency, capital, funds
negative - fatalistic, pessimistic, refusal
nice - pleasant, personable, agreeable
need - require, must-have, necessity
Continue expanding your vocabulary with more synonyms meanings for common words. Find even more synonyms in the YourDictionary thesaurus.
old - antiquated, ancient, obsolete, extinct
opportunity - chance, possibility, shot
outgoing - friendly, sociable, warm, extroverted
pacify - appease, placate, mollify
positive - optimistic, cheerful, starry-eyed, sanguine
quality - excellent, attribute, characteristic, trait
question - query, inquire, inquiry
quote - repeat, recite, price
qualified - eligible, meets requirements, competent
quarantine - seclusion, separation, confinement, isolation
recalcitrant - obstinate, stubborn, ungovernable
rich - affluent, wealthy, well-off, well-to-do
strong - stable, secure, solid, tough
true - genuine, factual, accurate, correct, real
turbulent - disordered, violent, unsettled
unhappy - sad, depressed, melancholy, miserable
valid - authorized, legitimate, authentic
weak - frail, infirm, puny, fragile
xenophobia - intolerance, ethnocentrism, isolationism
yes - agreed, certainly, affirmative, indeed
youth - minor, youngster, you person
yummy - delicious, flavorful, tasty
zealous - ardent, fervent,
zero - nil, nothing, zilch
zone - area, region, region, sector
There's a certain skill involved in choosing the most appropriate synonym; not all are created equal. The denotative meaning of a word is not all that matters. It is important to consider the connotative meaning of the word because some synonyms can inject a different meaning than what was intended.
For example, one synonym for sad is "gloomy." However, this word carries quite a negative connotation. Depending on the circumstance you can use it, but in this instance, if you just want to say that someone is "down," then another synonym such as "blue" or "unhappy" would be a little less heavy.
Now that you've reviewed these lists of synonyms, see if you can pass the printable synonym test below. It features a matching exercise along with a complete answer key.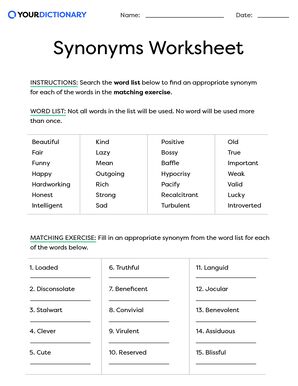 Additional Resources: Beyond Just Synonyms