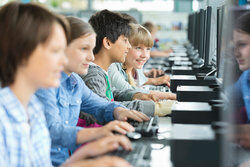 Blogging is a great way for students to express themselves in a safe online environment. Not only does it work to build creativity and self-expression, it can be downright fun to have your voice heard. Get examples of some inspirational classroom and personal blogs created by students. Inspect the dos and don'ts of creating the best student blogs, too!
The world is so careful about internet safety that you wouldn't think that blogging would be a tool to expand a student's mind. However, blogging can provide several benefits.
Promotion of Self-Expression
Student blogging gives them a platform to explore their feelings about a topic. While it is often an educational topic, the students still know others will read it. The fact that they are providing information to others will give them a need to create good information since it opens them to criticism.
Blogs can also let students explore areas that they really enjoy, like fashion or art. By sharing their thoughts, they are learning how to express themselves to the world. Some of the best blogs for students to read are those written by fellow students in similar situations or with similar interests.
Sharpening Creative Thinking
Blogging allows you to think about a topic creatively. In a classroom, students may be blogging about the same issue or sharing their thoughts on a topic. Since they are trying to develop original writing, they will need to use problem solving and perspective to provide their own unique take.
Improving Writing and Communication Skills
Writing! You can't blog without writing. While some students might dread writing, the fact that they are creating content that goes out onto the web can make it fun. They will improve their written communication skills without even thinking about it.
Explore some teachers and students who have truly embraced blogging in their classrooms and in their lives in inspirational ways!
Inspirational Blog Examples Not to Miss
When students create content for other students, it can really leave an impact. They could be imparting motivational stories, educational tips or even college advice. Some bloggers are just writing down their story in hope that it will hels others. Check out a few inspirational student blogs.
Looking to offer new knowledge and motivate others, Luke Murphy, a bachelor's student at Open University, offers tips and tricks for success through his personal blog. By referencing what he is doing through his journey, he is hoping to inspire others. Peruse through technology and photography categories through posts with study tips for mature students and thoughts on artificial intelligence.
A 5th grade classroom blog headed by Mrs. Moore explores students' interactions with the world through their own thoughts. While Mrs. Moore provides posts on trips like visiting Denali National Park and the Intrepid Sea, Air & Space Museum, she allows her students to share their thoughts and projects with other students on her classroom blog. Students also share reflections on the page that work to inspire other students within their studies.
Connected Teaching and Learning
In an effort to create a global classroom, Norwegian teacher Ann S. Michaelsen is allowing her high school students to share their thoughts through blogging. Michaelsen offers insightful information for teachers, students and parents through the main page that covers education and lesson topics. Students also get to share their insights on topics like climate change through their own personal blogs.
This student written blog is an open discussion between students and teachers. The topics bring students and teachers to the same level as they think creatively and explore topics like learning for life and American inequality. Multiple high schools across the U.S. participate in the blog, giving several views on varying topics.
A collective student blog created by college students in the UK to improve mental health, Student Minds offers insights, tips and motivation for students on areas like campaigning, exams, fundraising, graduation, anxiety, discrimination and a load of other topics. Written by students for students, this blog uses personal experiences to guide others through their college years. It can also offer tips and tricks for dealing with pressure and mental health issues.
The Dos and Don'ts of Student Blogging
When it comes to student blogging, it is important to keep it clean and to the point. This is a learning tool that should be motivating for students and allow them to have their voice heard. However, there are some restrictions about what should be included in the blog.
Topics should be educational. Controversial topics are okay as long as there is educational value.
Avoid negativity in comments and posts.
Keep your student's autonomy, but make sure to monitor their progress.
Watch the personal information that a student puts into a blog, especially content that is open to the public.
Comments are part of blog posts, but watch for inappropriate comments and information.
Avoid plagiarism and copyright issues.
Blogging is a great way for students to improve their writing skills and express themselves. However, blogs for students by students need to be monitored to make sure they are inspiring rather than hurtful. New to the blogging game? Find out how to make relatable blog post introduction through examples.