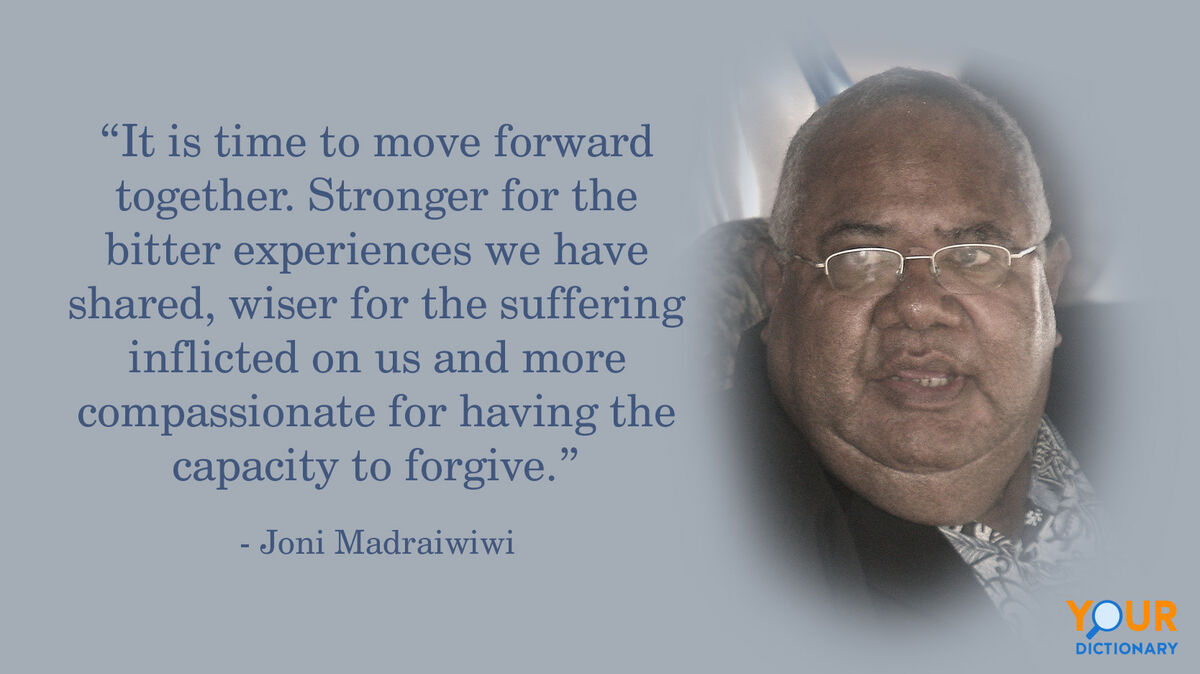 Fijian Vice President Joni Madraiwiwi was a skilled public speaker whose speeches were insightful, provocative and powerful. He frequently engaged his audience to build bridges and unify in order to strengthen the nation of Fiji. He was also a prominent legal scholar and prolific writer whose numerous speeches, books and articles left behind many thought-provoking quotes.

Ratu Joni Madraiwiwi, Lord Madraiwiwi Tangatatonga (1957-2016), better known as Joni Madraiwiwi, was the Vice President of Fiji from 2005 to 2006 as well as Chief Justice of Nauru. He was also a prominent lawyer, legal scholar and jurist. He came from a long line of Fijian royal hereditary rulers and was named after his paternal grandfather.
After a successful career as a lawyer, Madraiwiwi was installed as vice president after his predecessor was forced to resign in 2004 on charges of treason. Madraiwiwi's primary goal was to restore dignity to the office of vice president as well as to unify the racial and religious groups of Fiji. However, the position of vice president was abolished in January 2007 after a military coup, and Madraiwiwi was forcibly evicted. Afterward, Madraiwiwi continued to practice law and was appointed as Chief Justice to the Supreme Court of the Republic of Nauru in 2014, which he held until his death on September 29, 2016.
Inspirational Joni Madraiwiwi Quotes
Joni Madraiwiwi delivered many powerful speeches and statements, all of which include inspirational quotes. Many of his greatest speeches are compiled in A Personal Perspective: The Speeches of Joni Madrauwiwi.

"It is time to move forward together. Stronger for the bitter experiences we have shared, wiser for the suffering inflicted on us and more compassionate for having the capacity to forgive." - Our Country at the Crossroads

"It is not easy to remain motivated in the face of widespread apathy and self-indulgence." - Speech to the Lautoka Rotary Club (Centenary Dinner), 12 March, 2005

"It (insecurity) is a feeling that is deeply felt and is shared by most members of my community, irrespective of religion, status, education, background or place of origin." - Speech to the Fiji Law Society, 2 July, 2005

"We need to move forward and beyond the point where we endlessly pursue the demons bequeathed us by our history." - Opening Address to the Tourism Forum at the Sheraton Resort, 7 July, 2005

"Remember that the actions of a few, with commitment, can alter the course of world history." - Address to Greenpeace, Suva, 10 July, 2005

"The essence of traditional leadership is learned by osmosis. The next generation learns from what their elders and the current generation does. This was appropriate in a society where the pace of change was gradual."- Address to the Pacific Regional Workshop on Leadership Development, Lami, Fiji, 9 July, 2005

"It is not a matter of who can give the most but rather the spirit in which one participates in nation- building. And I apply that term to whatever useful exercise one is doing at any given time." - Opening Address to the Leadership Fiji 2006 program, 9 March, 2006
Joni Madraiwiwi Quotes About Law and Government
As a politician, lawyer and judge, Madraiwiwi was well-versed in the inner workings of the law and government. He used his position to speak out about the rule of law and the role of the government to serve the people.
"For it is only when we all believe that the Constitution and the rule of law protects all our people and their rights, can these guarantors of rights be assured." - Speech to the Fiji Law Society, 2 July, 2005

"Those who decry the rule of law as a Western principle or an imported construct, misunderstand the concept. It is about abiding by a set of standards for the well-being of society as a whole." - Speech to the Fiji Law Society, 2 July, 2005

"The politicians pontificate and manoeuvre with eloquent manifestos and pronouncements saying little about the challenges we must confront." - Our Country at the Crossroads

"Ultimately, the best guarantor of the rule of law is not the state and the branches which comprise it but the recognition by people of its value and their willingness to fight for, and uphold it." - Siwati Memorial Lecture

"Opportunity marries with circumstance and is midwife to the resultant bartering of public office." - Opening remarks to Transparency International Pacific Regional Meeting, 13 April, 2005
Joni Madraiwiwi Quotes About Equality and Inclusivity
One of Joni Madraiwiwi's greatest causes was the fight for racial and religious equality on both the world stage and in Fiji. Throughout his career, he spoke up for human rights and indigenous rights, citing them as fundamental rights that are mutually dependent.

"Inclusiveness is disguised by the ability to offer a sometimes disturbed community a vision of themselves and the means to achieve it together." - Opening Address to the Commonwealth Parliamentary Association conference in Nadi, 6 September, 2005

"Indigenous rights are those, which relate to indigenous people, their way of life, their land and their resources. They are connected in nature and the birthrights of indigenous people." - Closing address to the Roundtable on Human Rights, Indigenous Rights, and Nationalism, Suva, 23 July, 2005.

"The (racial and cultural) difference is to be celebrated, not fried or criticised, and we are so much richer for it." - Message to cadets at Xavier College in Ba, Fiji, 27 July, 2005

"We celebrate who we are although we come from different communities. We are one nation, one people. We have differences and these cause problems and tension at times but we are not on the brink of inter ethnic strife." - Opening address, Fiji Week Celebrations, 7 Oct, 2005

"We need to try and focus less on ethnicity in this country and concentrate on trying to improve the lot of the marginalized, whoever they are." - Speech to the Lautoka Rotary Club (Centenary Dinner)

"In order to build a common identity, we must find a name with which all of us are comfortable." - Speech to the Lautoka Rotary Club (Centenary Dinner)

"Reconciliation requires us to put aside our differences and forgive the injuries done to us just as justice is essential to that equation … Until we all accept that simple fact, the sense of hurt and betrayal continue." - Our Country at the Crossroads

"When we exclude part of the community, we deny ourselves the participation and contribution of those left out. We allow the possibility of conflict in some future time, neither scenario we can afford. Everyone, irrespective of ethnicity, has a contribution to make no matter how humble or small." - Opening Address to the Leadership Fiji 2006 program, 9 March, 2006
Joni Madraiwiwi may have had a short-lived political career, but his lifelong dedication to the law and human rights endures. From authors to activists to world leaders, many people leave behind great words that we can all learn from.