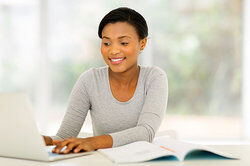 Plagiarism is a term that most students are familiar with, and something that they try desperately to avoid. Perhaps examining some real-life cases of plagiarism will further emphasize the importance of avoiding this problem.
Famous Plagiarism Examples
Students are not the only ones often accused of plagiarism. There are many instances of celebrities and other famous people plagiarizing speeches, writings and lyrics as well. Throughout the ages, there have been many examples of plagiarism. Some famous examples include the following:
First lady, Melania Trump's 2016 speech at the Republican National Convention not only mimicked the overall message but used some of the exact wording of the speech that Michelle Obama gave in 2008 at the Democratic National Convention.
Former Vice President Joe Biden has fallen foul of plagiarism several times throughout the years. He failed a course when he was in law school because he plagiarized a paper. According to the New York Times, Biden stated that he had "used five pages from a published law review article without quotation or attribution" in an article he wrote for the Fordham Law Review. In 1988, Biden was forced to withdraw from the presidential race due to plagiarism allegations. Some of his speeches were taken from speeches made by the Kennedys, Hubert Humphrey and Britain's Neil Kinnock during his campaign against Prime Minister Margaret Thatcher.
Stephen Ambrose, a historical writer, used writings from other peoples' books in some of his own works. Ambrose is best known for his book made into the miniseries Band of Brothers. In 2002, he was found to have plagiarized from Wings of Morning by Thomas Childers in his book The Wild Blue. This was followed by allegations that he used other authors' work in several of his books.
In 1997, Rene Diekstra, a former psychology professor at Leiden University, was accused of committing scientific plagiarism. He left the University due to these accusations.
Writer and Pulitzer Prize winner Alex Haley is best known for his book Roots. This book was later turned into a famous miniseries. Haley was accused of taking parts of The African by Harold Courlander and using them in Roots. He was sued in 1978 and eventually admitted that he had plagiarized the information.
Helen Keller was accused of plagiarizing a short story, "The Frost," that she wrote when she was 11. This story was published and quickly noticed to having a similarity to Margaret Canby's "The Frost Fairies." Keller said she had no recollection of this story but later it was revealed that she was read Canby's story at one time.
It has been claimed that in the 1950's Martin Luther King Jr. plagiarized some of his doctoral thesis at Boston University, as well as some selections in his speeches. Portions of his thesis were proven to be taken from a previous student's dissertation and the works of Paul Tillich, the subject of his thesis. Whether or not his speeches were plagiarized is less clear cut, as it has been argued that using the words of scripture and other preachers is a tradition in preaching.
George Harrison used the same melody in his song "My Sweet Lord" as the Chiffons did in "He's So Fine." Another interesting incident involving George Harrison was when he plagiarized himself (which actually can be considered a serious issue in academia). The beginning of "I'm Looking Through You" has been said to be the same as the end of "End of the Line" from his band the Traveling Wilburys.
Johnny Cash's song "Folsom Prison Blues" was taken from the song "Crescent City Blues" by Gordon Jenkins. The opening lyrics are identical. Both songs also use the same melody.
The Beach Boy's hit song "Surfin USA" was taken from Chuck Berry's song "Sweet Little Sixteen." Since there was no disputing this fact, Berry was added as a cowriter for the song and given royalties.
Jayson Blair
New York Times columnist Jayson Blair resigned in 2003 after he was caught using content from other newspapers and wire services. In his series for the Times on military families, Blair also made up sources, fabricated events and even lied about where he was when he was reporting.

How To Avoid Plagiarism
So you don't want to see your name on this list? There are many ways to avoid plagiarism, some are quite simple. For example, the best way to avoid any sorts of issues is to just make sure that you always cite your sources. It's always better to overcite than to under-cite or worse yet, not cite at all. Never copy more than two words in a row from any text you are using as a source. If you do, then you need to use quotation marks to indicate that that is being used from another source. To be extra careful, run your text through a plagiarism checker.