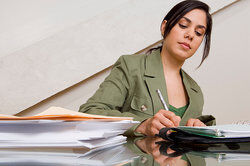 A written proposal is often required in order to gain sponsorship or to get a grant for a proposed project. Research proposals may also be written by students who are hoping to explore a given subject, or by professionals who want to expand their horizons within their field by studying a specific issue. All written proposals should contain some essential elements within them in order to ensure that serious consideration is given to the idea. Reviewing some sample written proposals can help you to determine what should be included within your proposal.
Online Written Proposal Samples
You can find many samples of written proposals on the Web by doing a search using your favorite search engine. These samples can help you to better understand the process of writing a proposal and help you to ensure you do not miss any of the necessary information that must be included.
The following are some sites that have copies or samples of written proposals for you to use should you need to.
These proposals provide a guide, but the specifics of what you must include depend on what you are proposing and for whom you are writing the proposal.
For instance:
Scope - When you submit a written proposal for a suggested project, one of the things that you will want to include briefly in the written proposal is the scope of the overall project.
Timeline - In this section, you will want to outline briefly all the parameters. This includes when the project will begin provided proper funding is obtained and when the project is expected to end.
Planned Activities - The written proposal should also elaborate on the methods of research or course of action that will be used to achieve whatever the proposal is aiming to do.
The key is to be thorough, be detailed and ensure the proposal is free of any possible errors or mistakes that might arise.